What would you do to find out what others really think of you? Every year, businesses invest heavily in customer research to find out how consumers perceive them.
There are a lot of ways to get this information, but leveraging net promoter score (NPS) is one of the most popular. This approach allows you to evaluate customer feedback and information to improve your call center.
On its own, calculating your net promoter score isn't enough to take your customer experience to the next level. The best strategy is to use a combination of data reports and benchmarking to ensure your findings reflect "the big picture".
Why is Net Promoter Score Important?
Net promoter score measures customer loyalty and satisfaction from -100 to 100. In other words, it indicates how likely your customers are to recommend your business to their network.
NPS is one of the strongest customer service metrics available to a call center. Of course, it's not the only metric you should use to build your strategy. But it is a strong indicator of your business's trajectory.
Good NPS scores indicate satisfied, loyal customers that will power your business. A downward shift may indicate a change in customer satisfaction levels.
NPS question can also help your business gather info on customer perception around…
Specific products or services
Customer experience during different periods
Different store locations
The best way to leverage NPS is to measure it over time and use the historical data to guide your contact center strategies. This will give you a deeper understanding of your audience and how to convince them to advocate for you.
How to Establish a Net Promoter Score Benchmark
Back to historical data and comparisons (NPS benchmarks): how do you establish a net promoter score benchmark for your call center?
#1: Diversify your NPS surveys.
How often do you share that magical question with your customers? If you send an email survey after every purchase— great start. Even better? After each transaction, purchase, and meaningful customer interaction.
Consider prompting the customer to answer the question as they browse your webpage, especially as they exit the customer journey. Or, you might ask after an interaction through Web Call-Backs (formerly Visual IVR) – you can even automate NPS surveys to be sent after specific actions.
TIP:
Send a scheduled NPS survey 15-30 days after a purchase or interaction. Instant surveys capture immediate thoughts, but a customer might develop some additional opinions over time.
#2: Calculate your Net Promoter Score regularly.
Make it a habit to calculate your NPS, and keep a record. By comparing your scores over time, you'll be able to better understand your contact center's performance over time. Depending on the questions you ask, you may consider organizing your data into different categories, like products, services, staff members, locations, and seasons.
#3: Monitor your competitors.
Benchmarking isn't just about improving your personal best. To stay competitive, pick 3-5 businesses that are similar to your own – comparable size, staff, and growth.
As for data collection, this can be a bit trickier. After all, competitors are not likely to share those details with you. Research company PR documents and reports – financials, annual reports, sales reports, press releases, anything you can find. This should give your team a
#4: Review performance to inform strategies.
Data without context is useless, and so are insights without action. Once you've compiled your historical performance data and a snapshot of your competition, you should have a strong foundation to work with.
Examine your history, and how scores change over time. Consider your highest scores and average them with your competitors to find a solid benchmark. Or, you might compare them with your own best performance.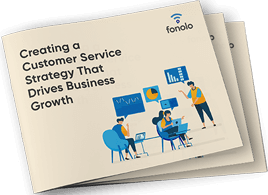 Creating a Customer Service Strategy That Drives Business Growth