Customer experience is no longer just a buzzword. It's become the foundation upon which companies practice their businesses. Brands that go the extra mile to make life easier for their customers have seen the immense payoff in the form of long-term customer loyalty. But adopting a few CX tactics isn't enough to stay competitive. Organizations with exceptional customer support know this; they are constantly looking for opportunities to improve those precious interactions and create pleasant and memorable experiences.
The rules of customer experience have always stood true, but digital tools and resources have really levelled the playing field. You don't need to go to Apple or Amazon for a standout shopping experience; authentic interactions can be won by local businesses or even non-profit organizations. If you ask us, that's something worth celebrating. That's why Fonolo is back with the 2022 Customer Experience Excellence Awards! 
Meet our 2022 CX Award Winners
Now in its 6th year, Fonolo's annual CX Excellence Awards celebrate contact centers that demonstrate excellence in customer service and customer experience. The winning brands were selected based on the amount of hold time they saved their customers over the previous year. Fonolo is pleased to announce this year's CX Award winners, EECU (Educational Employees Credit Union) and Oregon PERS (Public Employees Retirement System).

Educational Employees Credit Union (EECU)
EECU was founded in 1934 with the mission of providing low-cost financial services for educators in the community. Today, they serve members of the educational community as well as employees and members of select employers/organizations. EECU proudly supports numerous programs, activities, and events in the community. 
FACT:
In 2021, EECU Saved their members 59 years worth of hold time with Voice Call-Backs!
It's wonderful to be recognized for our efforts in creating a positive member experience. We are dedicated to enhancing member satisfaction in every interaction, and this award validates the hard work and dedication of our team."  
        – Cindy Stiavelli, Call Center Manager, EECU


 
Oregon Public Employees Retirement System (Oregon PERS)
Oregon PERS serves the people of Oregon by providing secure retirement benefits to honor their public service. They are committed to administering public employee benefit trusts to pay the right person the right benefit at the right time. 
FACT:
In 2021, Oregon PERS saved their customers a combined average of 24 hours worth of hold time daily!
We are pleased to accept the CX Award and appreciate being honored by Fonolo. Our partnership has helped us provide better service to our members by offering the option to receive a call-back when one of our retirement counselors is not available. We look forward to continued success with Fonolo."
       – Melissa Piezonka, Manager Member Information Center, Oregon PERS


Learn More About the CX Awards
Read the official press release here.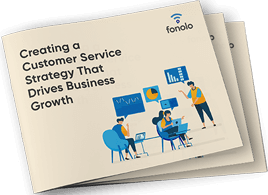 Creating a Customer Service Strategy That Drives Business Growth