Think about how many phone calls your contact center receives in one day. Thousands, right? Now, think about how many ripe opportunities you have to ask for customer feedback. Thousands again.
How? Through after-call surveys. You might confuse them with net promoter score or cSAT, but post-call surveys are a much more specific way to gather real-time feedback. Of course, these surveys aren't a foolproof way to improve customer service experience. In fact, one of the downsides is that response rates are historically low: between 5%-20%.  Still, there are several reasons the after-call survey is valuable for your contact center—we'll go through each one in this guide.
What is an After-Call Survey?
An after-call survey is a feedback request given to a customer immediately after a call. Remember, the after-call survey is not a comprehensive assessment of your customer service standard. Think of it more like a preview. The rest of the movie lies in the data collected from other important customer service indicators: KPIs like cSAT scores, agent engagement, and others.
TIP:
Use Fonolo's Visual IVR (interactive voice response) to gain customer feedback with its post-call survey feature.
5 Reasons to Use After-Call Surveys
So, what makes the after-call survey so valuable to call center leaders? Let's find out.
1. Helps Assess and Improve Individual Agent Performance
Immediate feedback after phone calls gives you a snapshot of agent performance. If after-call surveys indicate low customer satisfaction for the same agent, then you'll want to look at the situation more closely. Perhaps it's time for more agent training, or you may need more experienced agents on staff during peak times. Plus, the survey acts as a strong incentive for agents to perform their best.
2. Offers Customers Space to Vent
Haven't you ever felt better after venting? Your customers feel the same way. No one knows this better than your agents. Ask them how their customers feel when they don't come to a first-call resolution. Perhaps a customer ends the call angrily. Or worse—they take to social media to unleash their dissatisfaction. An after-call survey helps reduce friction in your customer experience. But venting is more than just an emotional release.
MTD Sales Training CEO sees customer venting as an opportunity to distinguish customer opinions from facts. For example, an angry customer may tell an agent they hate the company and service. But as they vent (perhaps in a survey), they might share more specific details about the problem—you'll gain valuable insight that'll help you improve your product or service.
3. Makes Your Customers Feel Heard
Listening to customer feedback is a fantastic way to improve customer experience. In fact, one hospitality study found that active listening offers the impression of preferential service. Your customers feel appreciated and cared for when you ask them about their experience. And if you really want to up the ante? Personalization. Your customers are up to 48% more likely to respond well to an after-call survey if you address them by name, or reference their purchase history.
4. Immediate Feedback is More Accurate
Try recalling a dream as soon as you wake up. You'll likely remember more details than you will the next day. The same goes for customer experience. Immediate survey data is 40% more accurate than responses received from surveys shared after 24 hours.
5. Informs Your CX Strategy
Fonolo founder Jason Bigue describes customer experience as the "net result of every touch point with a customer." The after-call survey is one of those touch points. Of course, it's not enough to inform your entire customer experience strategy. However, it provides valuable insight to supplement other data collected through metrics and more.
Immediate customer feedback, KPIs, and the right call center technology can transform your strategy to accommodate customer needs.
A #customerexperiencestrategy is a comprehensive way to elevate customer satisfaction. Use valuable feedback from post-call surveys to inform your strategy, and employ tech like Fonolo's Voice Call-Backs to execute it!
Click To Tweet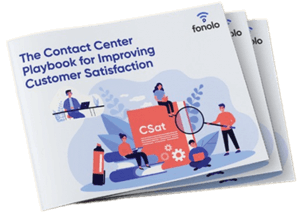 The Contact Center Playbook for Improving Customer Satisfaction
In this handy playbook, contact center leaders will learn the ins and outs of improving customer satisfaction.