Ritchie Bros. is a big deal. Literally! As the largest auctioneer of heavy equipment and trucks on the planet, the company has been helping people around the world buy and sell with confidence since 1958. The equipment they sell is big, too; the company's online and onsite auctions deal in equipment used in the construction, farm, forestry, and mining industries. But Ritchie Bros. knows that you don't get to be such a big deal without paying attention to the details. And that includes prioritizing excellent customer service in the contact center.  
The 43 agents working at Ritchie Bros.' contact center are busy! They help over 33,000 customers every month, fielding huge surges of inbound calls during live auctions. Weekly call spikes are a regular occurrence, particularly on days when they host featured auctions. 
Call Volume Surges Impact Call Center KPIs
Over time, the company noticed that call volume surges were increasing customers' hold times. Abandonment Rates were rising, affecting the call center's Answer Rate. The overall agent experience was impacted by the pressure and there was concern the customer experience could be affected, too. As a company that deeply values excellent customer service, Ritchie Bros. knew it needed a solution.    
Part of the company's longevity and ongoing success is the precision of its internal processes and ability to pivot to tech-enabled solutions. Ritchie Bros. was looking for a scalable solution that would improve both the customer experience and the experiences of the agents serving them. That's why it chose Fonolo.  
Voice Call-Backs Improve CX and other Metrics
 Fonolo helped Ritchie Bros. lower its Average Hold Time, and improve its Answer Rate and CSat scores.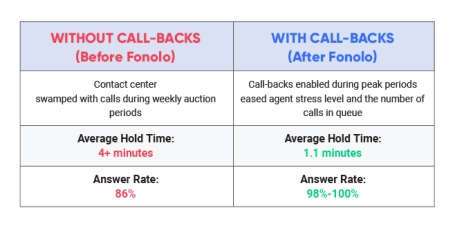 DaRon Lawrence, a 6-year veteran at Ritchie Bros., and Manager of Post-Sale Support and Customer Asset Management, observed first-hand how Fonolo Voice Call-Backs and the analytics-rich Fonolo Portal helped solve the challenges in his company's contact center. 
We asked DaRon to share some of the details of the Ritchie Bros. experience with Fonolo that helped make this a Success Story. 
What problem was Ritchie Bros. looking to solve in the contact center? 
"The number one thing we're concerned about is answering customer calls and avoiding long wait times, which we have been able to do by adding Fonolo." 
What are some of the key metrics Fonolo has helped improve?
"After offering call-backs, our Agent Success Rate is now very high. This is a metric I look at; our director looks at, and our entire team looks at." 
Are Fonolo Voice Call-Backs and the Fonolo Portal easy to use? 
"The solution and the dashboard were very easy to learn and use. We even had our own agents training other teams on the platform, because they very quickly became internal experts with the tool. It was that easy to navigate."  
How often do you refer to the Fonolo Portal?
 "I keep the portal up all day and hover through it once or twice, just to track what is going on. If I note any issues on the dashboard, I can then follow up with our supervisory team and ask them to investigate."   
What kind of feedback have you had since implementing these solutions? 
 "Most of the commentary we have about Fonolo came from internal customers. To date, our team has received very high reviews, noting the easy customer experience thanks to some of the features that we received from Fonolo."   
Would you recommend Fonolo?
"If your hold times, answer rates, and customer satisfaction scores are low, I would recommend Fonolo. One thing that it will address right away—and positively impact—is the customer's experience."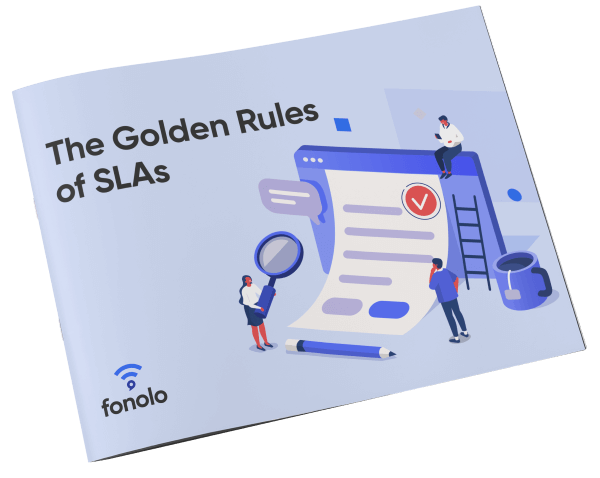 The Golden Rules of SLAs
If you're looking to quickly study up on SLAs, look no further. Download this free white paper to become an expert.