High call volumes are three words that can strike fear into the heart of any call center professional. Without the right preparation, even the most established operations can find themselves struggling with call demand, and trying to stay afloat when faced with an onslaught of customer queries.
The occasional call spike is hardly cause for concern — however, if your call center agents are struggling to manage daily volumes, you risk a lot more than a few abandoned calls. In fact, agent morale, customer satisfaction, and other important KPIs are directly tied to your call center's ability to successfully manage incoming queries.
As the Great Resignation continues to loom over the industry, hiring and training more agents may not be in the budget. The good news is, there are a lot of great tools and techniques you can use to level the playing field. We've compiled a comprehensive list to get you started – read on to learn more!
Understand Customer Behavior
Conducting research should be the first thing on your list. Gather your customer data and really dig into their behavior and expectations. This should give you a good picture of when you can expect spikes in call volume.
Ask yourself: why are your customers reaching out in the first place? Anything from current affairs to product launches to seasonal periods can trigger a rise in demand for your call center. Based on this information, you can make decisions on which types of calls to prioritize for the voice channel, and which calls to divert to other channels.
Focus on First Contact Resolution
When it comes to lowering call center demand, first call resolution (FCR) is the most important call center metric to focus on. Resolving a customer's issue the first time means they're much less likely to call in with a follow-up query.
Work with your agents and set expectations around providing consistent and high-quality service to your callers. This may involve more training, especially for your newer agents. Auditing your contact center tools and software can also help improve FCR.
Prioritize Self-Service Solutions
When it comes to contact center technology, self-service solutions are the way to go! This takes pressure off your agents, lowers call demand, and empowers your callers to find the answers to their questions on their own.
Customer Portal
If you don't have one already, consider investing in a customer portal. This is an engaging and transparent way to handle issues from your users and should allow them to view the status of their open support tickets. Since it can be accessed from a web browser, they will be less inclined to dial into your call center to follow up on their queries. It is also another terrific opportunity to collect customer data to inform future strategies and initiatives.
Interactive Voice Response
Interactive voice response (IVR) has come a long way from its early days. What started as a basic phone menu is now an advanced intake system designed to gather information and connect callers to the right agent, fast. Today, this pillar contact center technology has more features than ever, including voice recognition technology, natural language processing, and smart call routing. By using these IVR features, you can streamline the process for callers and complete each query more efficiently.
DID YOU KNOW?
IVRs are no longer limited to the voice channel. With Visual IVR, you can engage and direct your web and mobile app users to the proper channels. You can even let them schedule a call-back up to 15 days in the future, saving them from dialing into your call center!
Chatbots
Automation is an important part of alleviating high call volumes. Chatbots are a great example — using modern AI technology, they are able to help digital users with simple queries and direct them to relevant pages on your website or mobile app. This is a great way to help your call center divert less urgent calls away from the voice channel.
Knowledge Base or FAQ
Self-service doesn't always need to be high-tech. Having a dedicated section of your website or mobile app to common questions can save your customers from picking up the phone. Make sure the information is clear and easy to find for your digital users — otherwise, you may find yourself dealing with confused and concerned callers!
Use Call-Back Technology
One of the biggest frustrations of high customer demand stems from long hold times. The solution? Offer callers a call-back before they abandon the interaction. Those who opt in will receive a call from a live agent once they become available.
Chances are that callers will be happier waiting for support without being tied to their phones. Plus, by deferring their calls to a later time, your call center can smooth call spikes and make inbound call volumes more manageable. When used strategically, call-backs become a valuable defense against high call volumes!
DID YOU KNOW?
In this study, over two-thirds of customers surveyed said they would wait up to two minutes before hanging up. 13% of respondents said no amount of hold time is acceptable.
Provide Clear and Accurate Information
Communication is the key to maintaining a good relationship with your customers. Whether you're sending a bill or posting a tweet, your audience is listening. If anything is unclear or cause for concern, you can bet they'll pick up the phone to get to the bottom of it.
For that reason, it's best to keep your communications simple and easy to understand. Avoid industry jargon and use plain language. Anticipate any concerns that your customers might have and take extra care to share accurate information.
Develop and Support Online Communities
Online communities are a serious undertaking, but they can do wonders for building brand loyalty. Whether it's an online forum or a social networking channel like Linkedin or Twitter, these platforms offer you a way to engage directly with your audience and share the latest information about your organization.
How does an online community help with call center demand, you ask? By building a brand-loyal community online, you create another alternative channel where your users can find information. Customers who champion your brand will often share their insights and experiences when others in the community have questions or concerns.
There you have it: a comprehensive list of strategies to help get call center demand under control. Stick with these best practices, and you'll see an incredible difference in not just your performance metrics, but your operation as a whole!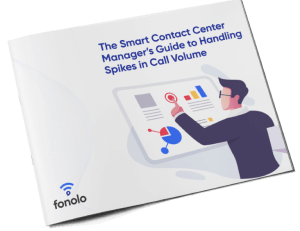 How to Manage Call Spikes in the Contact Center
Download this free guide to learn how to protect your contact center from call spikes.