Call center leaders have their work cut out for them. From training new recruits to briefing executives and monitoring customer satisfaction levels, the days move fast. Sometimes, it's hard to find the time to map out call center development goals.
Maybe you have an old action plan from last year that you loosely stick to, but it could use a revamp. Here at Fonolo, our call center tech lends itself nicely to business and development planning. Our rich insights help inform your strategy and monitor progress, showing metrics like average handle time (AHT), and much more.
But first? You need an action plan for call center development. We've taken care of the legwork and created a detailed template for you to start using right now!
What should be included in a development plan?
A business development plan should be a living document, constantly updated with your call center's objectives, goals, financial information, milestones, and methods to measure progress. Individual agent development plans can also be included as subsections.
You have tons of project management software to help you keep things organized — from Asana to monday.com. The productivity experts at monday.com recommend the following elements to any business development plan
Growth and scaling opportunities
Budgets for hiring, tech, operational costs, and professional development
Financial goals
KPIs and milestones
Timelines
Marketing objectives
All of these ideas work well for a call center development plan. However, you might need to get a bit more specific to meet the intricacies of an operational call center. For example, marketing objectives might not be a call center leader's top priority. Instead, they'll hammer down on meeting and exceeding customer service goals and SLAs.
Still, every element of a call center development speaks to two overarching goals: improving your call center and nurturing your agent's development and engagement.
Here's a structure you might consider for your call center development plan:
Step #1: Create Professional Development Plans for Agents
Employee development plans will vary, depending on your call center's needs and individual agent goals. Here are a few methods you might try: 
Performance- and objective-based agent development
Your agent's performance should improve over time, right? Well, you wouldn't know unless  you measured. Remember, like all development plans, performance-based goals should have clear metrics and timelines.
This form of employee development could measure and aim to improve agent-specific KPIs like:
First-call resolution: The ability to resolve customer issues in a single call is a great KPI to monitor for agents. Any improvements speak directly to their performance, which includes their knowledge and training.
Average handle time (AHT): If an agent's AHT is ten minutes at the start, you could develop a goal to lower it to three minutes, for example.
Customer satisfaction score: Conduct customer surveys through Fonolo's interactive voice response (IVR) to discover customer satisfaction scores. You can even do this for individual agents and monitor improvement.
Now, you have timelines and KPIs — but how do you go about meeting those goals? Your performance-based plan should include opportunities for:
Job shadowing
Training
Peak volume scheduling
One-on-one check-ins
Of course, these plans should be tailored to specific agents. Let's say you have one agent with a year's worth of experience. We'll call him Jerry. Now, Jerry has impeccable customer satisfaction scores, but long average handle times (AHT). A few meetings should illuminate the source of the long calls. Perhaps he's great with customers but keeps them on the phone too long. You could have him shadow other agents who might be more efficient at closing calls.
Succession-based agent development
Succession planning also tracks agent's performance and objectives, however, the overarching goal is career advancement. Your call center hierarchy probably looks something like this:
Call center agents
Team leaders
Supervisors
Managers
Executives
Succession planning helps suitable and interested candidates develop their skills, and rise through these ranks. It's a win-win both for agents, who get career development and advancement, and call center leaders, who are given the opportunity and resources to nurture and develop their staff's skills in alignment with the key goals they have for their call center.
Our advice? Offer succession-planning opportunities to every agent. By presenting the option to see which agents are interested, you may also discover which employees are more likely to stay with your call center in the long term. Unfortunately, only 35% of organizations have clear succession planning processes.
Those who don't are missing out. The average cost of hiring and onboarding new leaders is $4,000 — much more expensive than training your loyal agents to move up within your organization. To ensure success, make sure you pepper your succession plan with regular check-ins, test-runs, and training to give your agents the best shot at advancement.
Do you have a succession plan for your next #CallCenterManager? Creating one might save you $4,000 in average leader recruitment costs! #AgentEngagement #EmployeeHappiness
Click To Tweet
Step #2: Develop Smart Goals for Agents
Have you created a development plan for each of your agents? You probably listed some KPIs to help them meet their professional goals. But SMART goals will guide your agent with greater detail and intent.
Smart goals are clear and attainable — in fact, you're 33% more likely to achieve your goals if they're smart.
What are SMART goals?
Specific: "Agent X aims to improve their first-call resolution rate from 37% to 55%, from October 2022 to March 2023." Here, we have a goal with clear qualifiers.
Measurable: First-call resolution is a KPI you can identify with a simple calculation. Plus, you can add context to progress by monitoring calls and offering training.
Attainable: 37% to 55% isn't unrealistic over the course of a few months, especially with expedited training and job shadowing.
Relevant: Need we say more? FCR is one of the most important KPIs in a call center.
Time-based: October 2022 to February 2023 is a clear timeline.
Step #3: Make a List of the Problems in Your Contact Center
Conduct agent and customer surveys to find out exactly what's holding your call center back from performing its very best. You might hear feedback about things like long wait times, poor scheduling practices or workforce management problems. Listen to the feedback and take note of the overarching pain points your call center development plan needs to address.
Some ways to garner feedback include:
Sending automated post-call emails to customers.
Using Web Call-Backs (formerly Visual IVR) to send automated messages.
Offering agent engagement surveys and incentives for completing them.
Step #4: Invest in Employee Engagement
Even if you believe every one of your agents is happy as can be — there's probably something you can do to improve their experience.
Agent engagement has a direct domino effect on productivity, customer satisfaction, and your company's profits.
Agent engagement goals should be clearly identified in your call center development plan. Remember the agent feedback we mentioned in step #3? Use that same feedback to develop engagement plans, too. Your plan should include things like:
Rewarding great performance.
Experiment with gamification.
Investing in a healthy workplace.
Offering training and advancement opportunities.
Perhaps you want to improve agent satisfaction in their day-to-day work. If surveys described too many angry customers or difficult schedules, you might add these umbrellas to your plan:
Ease agent stress with call-backs: Fonolo's Voice Call-Backs are a great tool for this. Hundreds of our clients use them to smooth our peak call volume, which keeps angry customers at bay. That means your agents don't have to take on the wrath of an impatient customer, which eventually boosts agent engagement.
Flexible scheduling: How can you offer more autonomy to your agents? Perhaps you'll use a more robust

workforce management

system, or hire more recruits to accommodate staffing needs.
Step #5: Establish Call Center KPIs
Remember the common call center issues you outlined in step #3? Solving them will require you to monitor KPIs for improvement. Here are some common issues and the KPIs that address them:
Agent dissatisfaction: Keep your eye on your attrition rate (turnover rate) and absenteeism.
Customer dissatisfaction: Watch your abandonment rate, net promoter score, and customer satisfaction score.
Long wait times: Track your abandonment rate and average handle time to keep an eye on this issue.
Step #6: Audit Tools and Software
Every call center leader should conduct market and competitor research. Why? It helps you become aware of the latest call center technology. Leaving your tech stack and your telco services unexamined only hurts your customer satisfaction and agent engagement.
Make sure you include a tech audit in your development plan. Ensure your tech stack meets your budget restraints, satisfies your employees, and brings you the insights and analytics you need to inform your strategy.
Step #7: Review, Revise, and Review Again!
Your call center development plan isn't stagnant. Customer expectations change, industries shift and budgets are constantly being evaluated; your development plan should reflect those, changing realities too. The best way to ensure a relevant plan is to review and update it regularly. You might consider sharing parts of your plan with your agents to hear their feedback.
But if you need support monitoring performance or meeting your goals, call center technology offers a helping hand. Our Programmable Call-Backs come with rich reports and real-time monitoring to help you understand the data behind your call center operations. Every successful call center has a development plan — and the right tech. Ready to improve your metrics? Try out a demo today!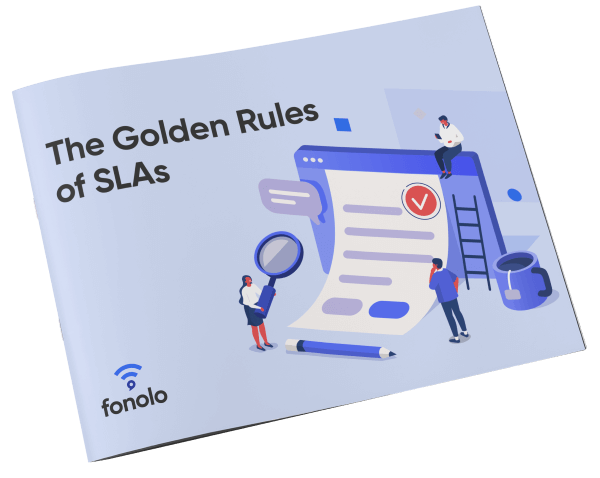 The Golden Rules of SLAs
If you're looking to quickly study up on SLAs, look no further. Download this free white paper to become an expert.