If you've been following the CX and contact center industries over the past few years, you know the landscape has drastically changed. The industry players are bigger and more intimidating, and the customers are more demanding.
There's so much industry news out there – where should you focus your attention? We asked nine influencers and leaders in the CX and contact center spaces to weigh in on the biggest trends for 2023. And their answers may not be what you expect.
Agent Empowerment
The evolving role of the agent in the contact center was one key trend many of our influencers are watching. They discuss the importance of driving employee engagement and by extension, customer satisfaction.
"I think one of the biggest trends is the focus on agent and employee experience, not just customer experience," says Blair Pleasant, President & Principal Analyst at Commfusion. "We've been seeing that for a little while, but it's definitely been picking up a lot more now."
"The trend in 2023 I would be paying attention to is the empowerment of agents," says Dennis Wakabayashi, Chief Collaborator and CX Expert at Team Wakabayashi. "[Also,] the tools and the business practices that continue to drive greater support and experience for those agents, so customer experiences can be better."
Bigger Players in the Contact Center Space
Over the past few years, the contact center industry has seen many players step into the ring. These companies are shaking up the space with new solutions and services, and our influencers are taking notice.
"The new competitors that have entered the space are notable, not just by how many there are, but the size and scale of the players that are joining us," says Shai Berger, Founder and CEO of Fonolo. Berger refers to huge companies like Amazon and Zoom who have recently been making headlines in the contact center world.
Frictionless Self-Service
Customers appreciate white glove service, but there is a growing number that are looking for good self-service options too. The catch? Contact centers need to ensure their self-service is as frictionless as possible and that it delivers the results customers want.
"One thing that drives customers crazy and gets them to leave is inconsistent information," says Shep Hyken, CS & CX Expert. "Have you ever gone to a website and couldn't find the number to call? That's frustration. That's friction."
"You want to make your customer aware and self-sufficient," says David Beaumont, Customer Support Expert at customerserviceisreal.com. "Especially if there are things like FAQs that they can pull up on the internet and find an answer for quickly."
AI and Natural Language Processing
With the rise of the bots looming, many contact centers are left wondering where that leaves agents. Fear not – according to our influencers, AI will soon take the role of helpful assistant, performing repetitive and monotonous tasks, and leaving agents free to handle more complex queries.
What's more, this technology can measure customer sentiment based on voice tone and speech patterns. Thomas Laird, CEO at Expivia Interaction Marketing Group, says this technology could take over the role of customer feedback forms.
"We all talk about NPS and CSat and I think 2023 is the year that those start to go away," says Thomas. "I think you're going to start to hear sentiment scores be used more than NPS or CSAT."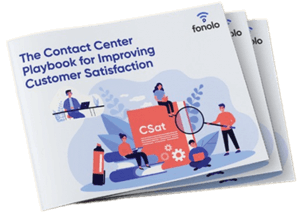 The Contact Center Playbook for Improving Customer Satisfaction
In this handy playbook, contact center leaders will learn the ins and outs of improving customer satisfaction.