CCMC's Customer Rage Study is a fascinating look at CX, designed to help customer service pros identify pain points and reduce customer complaints in the contact center. The first study was done in 2003; can you guess which direction the overall trend has headed since then?
If you guessed there are more complaints than ever, you're right.
66% of respondents had a serious problem with a product or service over the previous year.
Nearly 2/3 of respondents said they felt rage.
Those are attention-grabbing numbers, but the most exciting part of the study is why customer problems have increased.
Companies are constantly upgrading their technology and implementing programs to handle customer complaints. Unfortunately, they are often doing the right things in the wrong ways. Things like complicated automated response menus, having agents who are not empowered to solve problems, and trying to stretch resources by understaffing are not going to solve customer problems.
Common Customer Complaints
Call center agents spend much of their time answering the same questions repeatedly for different customers (this is why self-service is such a great option), so it's not surprising that customer complaints follow specific trends, too. It's easy to feel defensive when met with criticism, but remember; a customer complaint is valuable feedback from your customer that helps you identify shortcomings in your product or service.
Here are some of the most common customer complaints in contact centers.
Long hold times
Customers had to repeat their information
Confusing IVR menus
Product is unavailable
The customer service agent appeared disinterested
Substandard service or product
Multiple calls required to solve the problem
There was no follow-up
10 Ways to Reduce Customer Complaints in the Contact Center
Let's take a closer look at the best complaint reduction strategies to help you manage customer complaints and, where possible, avoid them altogether.
1. Deploy call-back technology
Nobody likes to wait on hold, no matter how mesmerizing your on-hold playlist might be. Having your customer wait on the line while you assist someone else sends the message that you do not value their time. The caller may even abandon the call.
Don't make this mistake. Ensure that the time your customers spend with you on the phone is productive for both the consumer and the agent. The best call-back software is platform agnostic, works with any call-center system, and allows customers to schedule a call-back at a time they choose, up to 15 days in advance. It should also be very quick to deploy and easy to use.
2. Offer omnichannel customer service
Everybody loves options. Maybe a customer is at home and would prefer to speak with an agent to resolve their problem. Meanwhile, another customer may multitask at work and want to reach out via a LiveChat service. A different customer only has a few minutes to fire off an e-mail before heading onto a plane with the hopes of receiving a response by the time they land.
An omnichannel approach has many benefits, including 40% faster complaint ticket resolution. Omnichannel support also allows agents to handle 63% more tickets and engage with 3.3 times as many customers.
Social media should be an essential part of your communications tools, too. If you're already there, consider exploring new ways of interacting with customers, such as using Twitter polls to get their feedback.
3. Find creative ways to ask for feedback
It's never easy to ask for criticism, but it's often the best method of resolving future customer complaints before they happen. If your customers complain about your website's UX, incentivize them with a discount code they can only use for the web and ask them for feedback about how to improve, after completing the transaction.
4. Improve your IVR menus
Confusing IVR menus are a common customer complaint. Think carefully about which actions to automate, research your audience and keep your choices simple. Customers love self-service but only if it works well. One of the keys to success is to monitor your results closely and continue to adjust your settings until you have good results and satisfied customers.
5. Reward customers for their feedback
If you want your company to achieve zero customer complaints, you need to listen to your customers. When a customer takes time out of their day to communicate with you, it's an excellent opportunity to turn a somewhat loyal customer into a very loyal customer, and loyal customers are more likely to praise you than make a complaint about you.
The easiest way to ensure you reduce customer complaints is to manage customer expectations. Ensure the promises you make are deliverable and frequently communicate about service changes or updates. #custserv #cx #customercomplaints
Click To Tweet
The simple act of listening to your customers can help to increase loyalty; people love to be heard and validated. The reward is up to you, but typically a discount that brings the customer back to your business is the most mutually beneficial.
6. Don't make promises you can't keep
When Comcast launched a media campaign telling its customers that they would "stop being the worst company," people were skeptical – and rightly so. After a year, they remained high on Fonolo's list of the worst companies to call, and customers mocked their Twitter handle @ComcastCares.
If your company can't deliver on a promise, you'll lose your customer's trust, and without their trust, you lose their loyalty. Managing customer expectations is the easiest way to ensure you reduce customer complaints. Ensure the promises you make are deliverable and completed in a timely fashion. If you don't, you only give customers more ammunition to complain.
7. Empower your staff and offer better training
Nothing is more frustrating than being diverted through endless transfers from one call center agent to another. These types of delays often occur because employees don't have the authority to offer a satisfactory solution for a customer. Ultimately, this leads to much longer handling times and lower CSAT scores.
Your employees are your biggest asset, and in an industry with terrible retention rates, it's essential to invest in them. Better training improves employee retention, operations, and overall service levels. When employees feel confident and empowered to do their jobs well, they'll treat customers better because they'll feel a sense of ownership and become invested in the company's success. Empowering agents means you'll improve that all-important first-call resolution KPI, too.
8. Improve internal communications
Communicate often and thoroughly across all departments. This way, you can catch problems and create solutions before your customers do.
No matter what role you play in an organization, it's essential to keep your ear to the ground and assist with improvements, not only in your field of expertise but as an unbiased third party in other departments.
9. Provide customers with self-service options
While it's true that just over half of customers prefer to speak to an agent on the phone, about half are willing to use other options, including self-service. Customers who prefer the phone often have complex problems to resolve. Self-service options, including chatbots and FAQs, can quickly resolve many other basic customer queries, freeing call center agents to handle more complex issues requiring a conversation.
A simple FAQ page is an excellent place for companies to start with oft-asked questions. Sometimes a quick self-service option will neutralize a potential complaint from someone who might otherwise be stuck on hold waiting for a simple answer to a fundamental question.
10. Get your whole company involved in reducing complaints
Customer support and service is an ethos, not a department, and increasing customer satisfaction should be the responsibility of every company member.
The companies with the most loyal customers and fewest complaints are the ones where every department works hand-in-hand to ensure that customer expectations are well managed and met. #cx #ComplaintManagement Click To Tweet
Marketing, sales, product development, and customer support should work hand-in-hand to ensure that customer expectations are met and exceeded at every point in their journey. Record your complaints, share the data amongst your departments, and work together to reduce the number of customer complaints you receive.
When the Customer Wants to Escalate
"I'd like to speak to your supervisor." That's a phrase nobody wants to hear. An escalation request often means a customer is dissatisfied with your service, which can be very discouraging. It's easy to feel nervous after hearing that — who wants to deal with angry customers?
But you don't need to be afraid of escalations. Think of them as opportunities for agents to improve their skills and for your company to learn where it can improve their operations. Call escalations are unavoidable; it's how you handle them that counts!
Why Do Escalations Occur in the Contact Center?
An escalation occurs when a customer wants to speak with a center manager or supervisor. There are many reasons why a customer might wish to escalate, such as:
Agent's lack of experience or training
Customer dissatisfaction with a product or service
Keep in mind that not all escalations are requested by the customer. Sometimes, an escalation is necessary for security reasons, or an agent might initiate an escalation to a support tier that can better assist the customer.
4 Step Plan for Handling Call Escalations in the Contact Center
Let's look at how to handle escalations in a contact center to ensure your customer feels satisfied and your company identifies ways to improve operations, too. While it may be tempting to rush through the escalation call and strive for a short handle time, it's better to be thorough and offer a satisfying experience.
Step 1: Apologize
The first step in handling a call escalation is acknowledging the customer's dissatisfaction and apologizing. You can apologize for being unable to help them or simply because they are upset enough to request an escalation.
When you acknowledge someone's feelings, it encourages connection and demonstrates compassion. Most customers will appreciate this. And if they don't, there are other steps in the process that the customer might be more receptive to.
Step 2: Offer a solution (but ONLY if you have one!)
If you're confident you can help the customer with their issue, offer your support and a solution. You might also be able to quickly find an answer in your company's knowledge base and de-escalate the call. Sometimes, this is enough for a call resolution.
However, if you cannot help them, move on to the next step. You shouldn't attempt de-escalation if you lack the tools to help.
Step 3: Tell the customer what to expect from the process
If you cannot help the customer, inform them you will escalate their call. Delaying escalation or de-escalating without a proper solution worsens the situation. Then, wrap up the call, and give the customer as much information as possible about what they can expect next.
If you know the call center has a 24-hour call-back policy, let them know that they can expect a call-back within 24 hours. Or, if you know that your manager will call the customer right after lunch, give the customer a more specific time.
Step 4: Offer to schedule a call-back
If your escalation process involves immediately transferring your customer to a new extension, offering a scheduled call-back is one of the most efficient, cost-effective ways to improve your customer satisfaction (CSat) score. Trust us: the last thing a disgruntled customer wants is more hold time.
An Agent's Guide to Upset Customers
Unhappy customers are a fact of life for all businesses. After all, it's impossible to please everyone all of the time. The key to customer service success is how reps handle customer complaints.
This makes customer service training key to the success of an organization. Ensure your agents are trained to follow these best practices for dealing with upset customers.
Let the customer be angry
The most effective way to start calming an unhappy customer is to let them vent. Don't be tempted to judge whether or not their complaint is valid — begin with the assumption that the customer's complaint is justified.
Don't take their anger personally
At the same time, reps must be able to distance themselves from a customer's anger — to listen and acknowledge anger without getting flustered or frustrated. Instead of getting caught up in the customer's emotions, a rep should listen carefully to what they're saying and how they're saying it to identify cues that will help them placate the customer and solve their problem.
TIP:
Software tools can help. CCaaS software with NLP capabilities can perform sentiment analysis on calls, identifying what callers feel and prompting agents with suggestions for de-escalating calls. Robust call-back software keeps callers off hold, offering them a call-back at a time of their convenience, keeping frustrations in check.
Listen and repeat
Therapists employ a psychological technique called mirroring to validate a patient's concerns without judgment. In customer service terms, this means listening to a customer's complaint, repeating their main points, and acknowledging their emotional distress. That allows the customer to feel validated, takes some of the sting out of their anger, and reassures them that the agent understands their problem.
Own the problem
Customer service training should reinforce the importance of taking responsibility for the problem, no matter whose fault it is. The rep needs to apologize and own the problem — not necessarily on a personal level, but on an organizational level — and state their willingness to fix it.
Put the customer first
Throughout the process, the focus should be on the customer, not just their problem. This may seem counter-intuitive; after all, it's a customer service rep's job to solve problems. But the higher goal is to turn an unhappy customer into a satisfied customer. Therefore, it's more productive to think of problem resolution as a way to make the customer happy, not just fix the problem at hand.
Follow-up
One of the biggest complaints customers have about the service they receive is that it's impersonal and that organizations don't genuinely care about their customers. Correcting a problem and sending a follow-up inquiry a month or so later is an effective way of demonstrating a level of attentiveness that helps boost customer loyalty.
Escalated Calls are Inevitable
Companies try to satisfy their customers as much as possible, but customer complaints are inevitable! So, what can we gain from call escalations? Agents can use escalations to gain confidence and hone their customer service skills! And for companies, escalations are an opportunity to find operational inefficiencies and improve your agent training.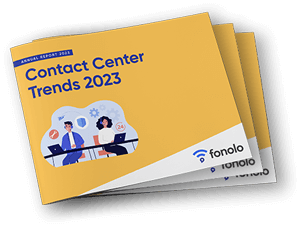 Trend Alert! Contact Center Industry Predictions for 2023
This report offers perspective on where the contact center industry stands today, plus our trend predictions for 2023.