Attending contact center conferences and live events is an excellent way to keep up with technology and best practices in this rapidly changing industry. Consider attending an industry event if you'd like to sharpen your management and customer service skills. You'll be glad you did! They're fun, inspiring, and an excellent chance to learn something new while building new relationships.
If you're wondering what contact center or customer service industry conferences to attend in 2023, we've got you covered! Our conferences and events page offers a comprehensive listing – and in this blog, we'll take a closer look at three noteworthy events happening in 2023.
3 Notable Contact Center Conferences and Events
Healthcare Contact Center Times Conference,
June 7-9
Atlanta, Georgia
Looking to embrace a new era and elevate your contact center to new heights? The Healthcare Contact Center Times Conference will share insights into the latest technologies, leadership strategies, and offer a chance to discuss the lessons learned from the past few years. You can connect with old friends and expand your network by meeting new colleagues who share your passion for excellence.
This conference is designed to leave you energized and motivated to lead your team to success. You'll walk away with hands-on tactics you can put to work immediately. You'll also have the chance to explore the latest features, services, and information technology from vendors and exhibitors, all aimed at helping guide your contact center to success in the future.
This three-day professional gathering will feature cutting-edge topics that directly relate to the call and contact center spaces in healthcare. You'll have plenty of opportunities to network with your peers, both formally and informally, as you discover strategies that ensure your contact center's future success.
Visit Fonolo at Booth # 12 to learn how call-backs can improve your RCM!
Avaya Engage, June 18-21
Orlando, Florida
Avaya Engage is contact center professionals looking to discover what's next in customer experience technologies. The conference offers the opportunity to understand Avaya's newest features and discover how the centerpiece of Avaya cloud solutions –  the Avaya Experience Platform – is changing.
The Keynote Speaker series is led by award-winning chef, restauranteur and humanitarian, Jose Andres. Andres is known for his ground-breaking approach to cuisine and for his advocacy of food and hunger issues. The main stage will feature other remarkable professionals who are redefining the future of work and elevating the customer experience through innovation.
Attendees will choose from over 80 breakout sessions to learn from the top minds in the industry. The diverse topics covered include: innovations in workforce engagement, Avaya's roadmap for the future of CX and discussions about the merits of SIP technology.
Visit Fonolo at Booth #169 and discover how easily Fonolo Call-Backs deploy on the Avaya platform!
CCW, June 19-22
Las Vegas, Nevada
In 2023, Customer Contact Week celebrates 25 years of bringing together industry executives to share insights and ideas while building relationships. The conference has evolved along with the industry and is now widely regarded as an innnovator, incubator of disruptive ideas and the most important event in the industry for customer experience and contact center executives.
This year's program themes include generative AI and emerging tech; omnichannel and self-service; operations and efficiency and a host of other essential topics. Join 3000 industry professionals to participate in these and other essential discussions.
Two-time Olympic gold medallist and FIFA champion soccer legend Abby Wambach leads an impressive line-up of keynote speakers with a talk about bringing people together to unleash personal power and change the game.
Expect unparalleled networking opportunities, strategic insights from thought leaders and game-changing innovations that can advance your contact center and your career.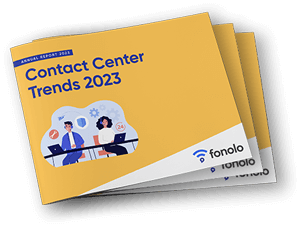 Trend Alert! Contact Center Industry Predictions for 2023