On-Demand Webinar:
3 Ways Smartphones Will Change Call Centers Forever
The inevitable rise of the smartphone represents a tremendous opportunity for companies to improve the call center experience. Now that a majority of US consumers are carrying these powerful devices in their pockets, the call center is adapting by:
Replacing hold time with an intelligent call-back
Enhancing the IVR with a visual interface
Asking the right pre-call questions for faster call resolution
Consumers are welcoming these changes because they eliminate common frustrations with the call center experience. Companies are also welcoming these changes. (Well, at least the smart ones are.) Why? Because, in addition to improving the customer experience, companies are able to lower handle times and thus lower costs.
We talked about how companies: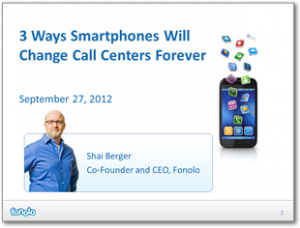 Adapted to their smartphone app and mobile site.
Integrated the smartphone into their call center.
Determined what kind of ROI to expect.
Who should watch:
VP's & Directors of Customer Service
VP's & Directors of Contact Centers
VP's & Directors of Web/Social Media