Q: What if our IVR is already asking questions before connecting to an agent? Ian P.
A: Not a problem. One of our many features is Pre-Call Questions. The Fonolo interface will prompt your customers to enter the required information by typing or tapping. That information will then be shared with your IVR or agent while Fonolo handles the call-back process to your customer. The important thing to remember is that any processes you have in place in your call center (skills-based routing, screen-pops, etc.) will continue to work as before.
A related feature is the Post-Call Survey, which lets your customers easily rate their call experience. You'll receive real time feedback and have the ability to respond quickly with corrective action.
– Shai
Feel free to send in your questions to shai@fonolo.com.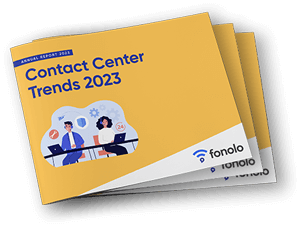 Trend Alert! Contact Center Industry Predictions for 2023
This report offers perspective on where the contact center industry stands today, plus our trend predictions for 2023.