FONOLO
Get To Know Our Suite of Solutions for Your Contact Center
Fonolo Deploys Quickly on All Platforms
Our Suite of Products
Voice Call-Backs
When an unexpected call spike hits, our call-back technology helps protect your KPIs and the quality of your customer experience.
Calls are shorter when customers aren't complaining about hold time.
You can lower telco costs with the use of call-backs.
Web Call-Backs
Web Call-Backs are the missing link between your voice and digital channels.
Escalate your online customers to a call center agent — fast.
Power your website and mobile app with click-to-call-back capabilities.
Scheduled Call-Backs
Scheduled Call-Backs keep your call queues manageable.
Your callers can select a future time to receive a call-back. Easy for them. Easy for you.
Replacing hold-time with a call-back reduces customer frustration and increases customer happiness.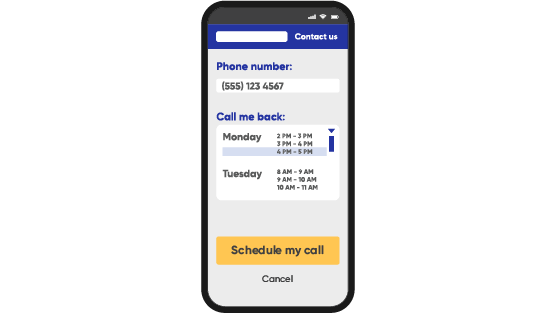 Fonolo Automate
Fonolo Automate is a proactive outbound engagement tool that helps automate conversations between you and your customer.
Automate conversational and business logic at scale, powered by Fonolo's serverless architecture, with no code required.
Securely connect your business data, custom API endpoints, and hundreds of third-party applications together in an intuitive, powerful and conversational workflow.
Hear it Straight From Our Clients
"We decided to engage with Fonolo and utilize their call-back solution as another means for us to establish an effortless customer experience. The most rewarding aspect of utilizing Fonolo has been our customer's reaction to the option; it's been very positive. Happy customers help increase brand loyalty and help the bottom line!"

"At Reliance, we continually strive to provide our customers with an optimum experience. During times of high volumes, the Fonolo technology delivers another option for improved customer experience with the choice of a call back rather than waiting in queue. We look forward to our continued partnership with Fonolo."

"With Fonolo's call-back solution, we saw a reduction in our abandon rate, an increase in member satisfaction and an upsurge in agent morale."

"We wanted to offer our customers the convenience of a call-back without consuming time actively waiting in a call queue. We also wanted to mitigate our abandon rate on busy days. Fonolo's simple implementation and subscription-based model encouraged us to move forward with this solution."
See Fonolo in Action
Select the type of demo you'd like.