I've spent a lot of time working with customers on the business case for Fonolo deployments and the core issue in every business case is ROI. I always talk about two aspects to the ROI. The first is a quantitative argument that revolves around how we can reduce the operational costs of the call center and increase the success rate of revenue-bearing transactions. These are the "hard numbers" that Accounting needs to see.
The second is a qualitative argument that revolves around making customers happy (or less unhappy) with their calling experience. Everyone implicitly knows that having happy customers is good for business, but it is always difficult to map this to hard numbers.
One way to help connect the dots are industry surveys. The AmEx study that just came out is a great example of that. After asking a random sample of 1000 people (18 or older), they found that:
81% have decided never to do business with a company again because of poor customer service in the past.
50% reported it takes only two poor service experiences before they stop doing business with a company.
On average, Americans were willing to spend 9% more with companies that provide excellent service (7% for Canadians)
Read more about that here.  The AmEx study confirms what we all already know: It pays to treat your customers well.
It's great that there is a growing body of evidence that investments in customer service give solid returns to the bottom line. Makes my job easier!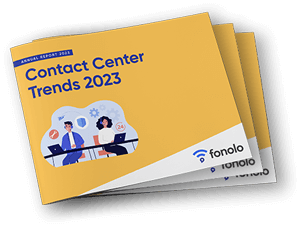 Trend Alert! Contact Center Industry Predictions for 2023
This report offers perspective on where the contact center industry stands today, plus our trend predictions for 2023.