A smart phone app has become a must-have in the financial world. (See our whitepaper "Fonolo for the financial industry"). Other industry segments are following closely. A recently study shows that online retail is the next segment to get the bug.
An accelerating trend
The study, released June 29th 2010 by Forrester Research and Shop.org, states that nearly three-quarters of online retailers either already have or are developing a mobile strategy. The average investment is $170,000 but large retailers are spending several times that.
We at Fonolo think this trend is going to accelerate dramatically in 2011, driven mainly by the proliferation of smartphone and tablets. (IDC predicts those two product categories will outsell traditional computers in the next 18 months.)
But something is missing from the feature list
Of those online retailers with mobile strategies, the most popular features are those that support the cross-channel experience. For example, product info, store info and coupons help support the in-store experience.
But we think the providing store info and coupons is just the beginning of making a mobile app part of the cross-channel experience. What do phones do? They make calls! So the most obvious channel hand-off to focus on is mobile app to call center!
New live demos of mobile Fonolo
By adding the Fonolo component to the mobile app, consumers can connect directly with the call center in a smart and cost-effective way. Best of all, no changes to the call center are required.
We just put up some live demos that show what Fonolo on a smart phone looks like. Check them out here.
If your company has a mobile app or is developing one, contact us to find out more!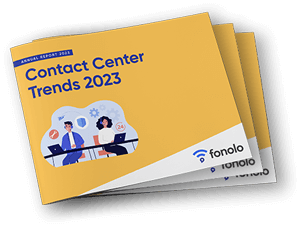 Trend Alert! Contact Center Industry Predictions for 2023
This report offers perspective on where the contact center industry stands today, plus our trend predictions for 2023.