I wrote a few months ago about a study which stated that nearly three-quarters of online retailers either already have or are developing a mobile strategy. Since then, our conversations with companies have absolutely supported this finding.
For banks, mobile is a must-have
In some verticals, such as banking, mobile apps are already a must-have. With the release this week of RBC's iPhone App, all 5 of the major Canadian banks have embraced this platform, plus ING Direct and National Bank. (See our whitepaper "Fonolo for financial industry".)
What does this mean for the call center?
The future of the call center is a visual interface
We see the rise of the smartphone as a force driving the next generation of call center experience, and experience based around a visual interface. To understand why, consider the context of the customer when he calls in the call center. For the last decade a growing fraction of callers have been in front of a web browser when placing a call. (In talking with a large bank's retail group recently, we heard that a third of their callers are on the website when they place the call.)
In Canada, estimates say that 30% of all wireless users will be on smartphones by the end of the 2010 and 50% by the start of 2014
– Convergence Consulting Inc. as reported in "We're flocking to smart phones",
Iain Marlow, January 12, 2010, The Globe and Mail
Now combine that with the growing number of callers that are on a smartphone. The sum of those two will soon be, if not already, a majority of callers. And what's special about those two contexts? In both cases, the caller has an interactive visual interface at his disposal. That interface, if used properly, can vastly improve the calling experience while reducing the cost for the company. Fonolo makes it possible and, more importantly, easy for any company to do just that.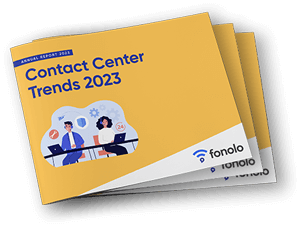 Trend Alert! Contact Center Industry Predictions for 2023
This report offers perspective on where the contact center industry stands today, plus our trend predictions for 2023.