Google's click-to-call ad program, which started only a year ago, is generating "millions of calls every month" said Google SVP, Jonathan Rosenberg. That quote came from a post by Greg Sterling called "A Year Later Even Google Surprised By Success Of Click-To-Call".
People want to cross from browsing to calling
How does this relate to Fonolo and your call center? It is more evidence that people have a strong desire to "cross channels". That is, they want to cross from browsing to calling. While Google's program is aimed at off-site marketing (via AdWords) the same applies to converting website visitors.
Especially in a mobile context
This is especially true of mobile users. Whether they are browsing your site via a mobile browser or using your custom mobile app, giving them an efficient way to connect with your call center is critical.
Since smartphone penetration continues to grow rapidly, the impact of doing so is going to get greater and greater. Sterling asked Google exec, Surojit Chatterjee, about this and the response was that the product is available around the world but that call volumes "follow the growth of smartphones." Exactly as you would expect.
Your mobile site needs to include smartphone calls
If you've spent the time to design a mobile version of your site, and you haven't given users an intelligent way to cross to the voice channel, you are missing an opportunity. One of the great things about Fonolo is that once implemented, it works on your regular site, your mobile site and even as part of your mobile application. You can see a demo here.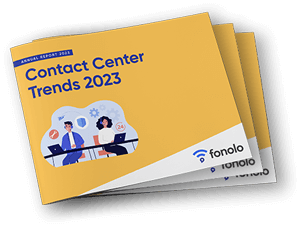 Trend Alert! Contact Center Industry Predictions for 2023
This report offers perspective on where the contact center industry stands today, plus our trend predictions for 2023.