Recently at Fonolo we've started to host regular webinars on a variety of topics.  This month we're focusing on social media and its impact on the call center.
We've written about this before, but it warrants repeating: how you treat your customers echos loudly thanks to social media tools like Twitter and Facebook – it can have a serious bottom-line impact on your business.   Join us on Thurs May 26 at 2 PM EDT to find out what Fonolo can help you can do about it.
Here's a brief summary of the event:
Today's consumers demand rapid and efficient customer service. Companies that fail to provide service that measures up will see customers move on to other alternatives. Even worse, they may see complaints broadcast on social media sites, multiplying the impact of a poor experience.

Fonolo can help consumer-facing companies meet the high expectations of the "web generation", thus growing the user base and building loyalty. Twitter, Facebook and other social media tools allow awareness of your customer service quality to spread quickly through a community or the public at large. On the plus side, the benefits of providing good service can be felt more quickly and more strongly. On the downside, stories of bad service propagate even more quickly. The bottom line is the impact of social media needs to be taken seriously.

Join us for our upcoming webinar to learn how social media has made it more important than ever for your company to deliver a pleasing call center experience and how Fonolo can make that happen with minimal effort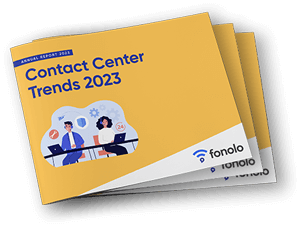 Trend Alert! Contact Center Industry Predictions for 2023
This report offers perspective on where the contact center industry stands today, plus our trend predictions for 2023.