Fonolo CEO, Shai Berger, will be presenting at the Emerging Communication Conference next week in San Francisco. His talk is at 11:30am (PT) on Monday. If you are attending, it is definitely worth checking out.
The title is "When Click-to-Call becomes Tap-to-Call: Two Powerful Forces Reshape Consumer-to-Business Communication".
From the session description:
For decades, the process of calling a large company was the same: You dial their number, navigate the phone menu, wait on hold and then connect with an agent. Technology has made some incremental improvements, such as replacing the tone-based menu with voice recognition (which most people dislike just as much). But the basic process has stayed the same, as has the public's general distaste for it.
Thankfully, a major change in this process is happening. It's a change that will benefit consumers by removing the long-dreaded annoyances of navigating phone menus, waiting on hold, and repeating information needlessly to agents. It's a change that will also benefit the companies by making agents more efficient and lowering the substantial costs of running a call center. The new process will allow the consumer to navigate the phone menu visually, provide key information in advance, and then request a call when the next relevant agent is available.
This breakthrough is the product of two forces: 1) The smartphone, with its flexibility, power and growing ubiquity. And 2) The long experiment that's been quietly happening on the web with click-to-call technology…
More info here.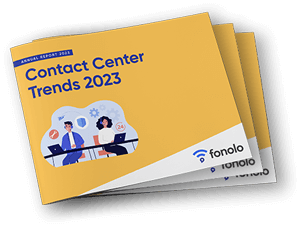 Trend Alert! Contact Center Industry Predictions for 2023
This report offers perspective on where the contact center industry stands today, plus our trend predictions for 2023.