A growing number of vendors are offering analytics products to call centers as a way to improve caller experience and agent performance. The basic goal of analytics is to give the agent extra insight into a given caller by "data mining". Some offerings analyze the caller's transaction history with the company, some analyze the actual words in recorded conversations (speech analytics), some even try to discern the caller's mood by examining the way words are spoken.
I will admit right away that I don't have first hand experience with any of these offerings. But, after working with many call centers over the last few years, my instincts tell me to be skeptical of their claims of improved caller experience or agent performance. I sense a high hype-factor.
I just read an article in GigaOm titled Big Data: Making even call centers intelligent. It's based on a discussion with IBM who, one can surmise, is readying a product for this space. Some excerpts:
 …it's a matter of putting analytics tools to work for customer service reps … [so he] isn't left trying to deal with a potentially upset customer while simultaneously trying to find a resolution… the analytics system has done much of the legwork already.
How would it work?
… the rep will have a screen full of charts and dashboards showing a customer's history, preferences and propensities, based on what the system has been able to determine from previous calls and general activity…

…the system might offer a variety of offers specifically tailored to that customer. A customer likely to cancel service, or one likely to upgrade to an even more-expensive plan, will be offered whatever it is the system thinks will make them happy.
To me that seems far removed from the realities of the modern call center. Today's agents already have a desktop overloaded with data across many different windows. Is adding one more window going to make the agent perform better?
IBM foresees taking this a step forward, using "predictive analysis":
… reps could actually type what a customer is saying… let the system perform sentiment analysis in near real time and adjust accordingly… learning as it goes what keywords are correlated with what actions and constantly rescoring customers' propensity models.
Picture in your mind the effort required to implement a project like this one. You would have to connect the software to your existing databases, program in your current policies, figure out how to deliver "actionable intelligence" to your agents and then train your agents. By the time you do that and run a pilot to see if it was making a difference, you would probably have new policies in place.
I think there's a better way to use that time and money.  Step one: hire great agents. Step two: Let them do what they do best by removing low-value "house-keeping" chores from their workload (i.e. use pre-call questions). Don't waste their time handling misnavigated calls.
There are no shortcuts to delivering a good call center experience. The only answer is an ongoing effort by the company to listen to feedback from its callers, tweak its policies and keep its agents up-to-date on those policies.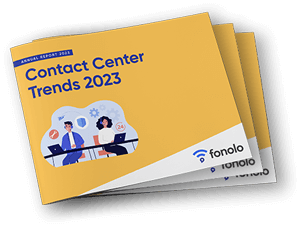 Trend Alert! Contact Center Industry Predictions for 2023
This report offers perspective on where the contact center industry stands today, plus our trend predictions for 2023.