We're quite proud of how Fonolo's CEO, Shai Berger 'gets around'.  Just last week, he was at the 4th Annual Customer Experience Summit, earlier this year cinching the 'Best in Show' at Enterprise Connect and on June 7th, 2012, he's booked to speak at the Call Center Tech Expo in New Jersey – indicating that the call center industry is ready for a change and looking at Fonolo as a leader.
Shai will be discussing key points on the topic "Beyond Voice – What's the role of the mobile devices and video on customer experience?" – riveting information will be shared followed by a Q&A. If you're attending the conference, you won't want to miss this opportunity.
While in New Jersey, if you are interested in booking a one-on-one with Shai, please email shai@fonolo.com.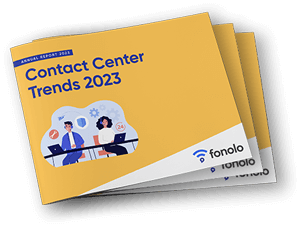 Trend Alert! Contact Center Industry Predictions for 2023
This report offers perspective on where the contact center industry stands today, plus our trend predictions for 2023.