It's an exciting day when we get to share awesome news in our blog.  Allstream has selected Fonolo to boost employee productivity by offering an easier and more efficient way for Field Technicians to reach their call center.
Allstream recognizes the importance of streamlining the process by which employees contact their support center. By adding Fonolo's mobile solution to their company-issued BlackBerry smartphones, Allstream will enable its employees to reach an agent with just one click, saving time and impressing customers.
"Fonolo is proud to be a part of Allstream's vision to elevate the call center experience," said Fonolo CEO, Shai Berger. "The intersection between the smartphone and the call center is currently one of the most exciting areas in customer service. The advanced interface of the smartphone makes it possible to fix long-standing problems with the call center experience, allowing us to replace the IVR with visual navigation and provide a satisfying experience that saves time for both callers and agents."
It's a win/win solution that benefits Allstream's employees and customers.
If you think your company would benefit from having Fonolo as a call center solution, please contact Chris McLean 416.366.2500 x228 or email chris@fonolo.com.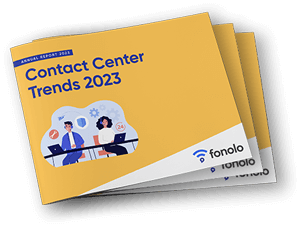 Trend Alert! Contact Center Industry Predictions for 2023
This report offers perspective on where the contact center industry stands today, plus our trend predictions for 2023.