Guest Post by Malcolm Carlaw
A company's reputation is based on the customer's experience. Fixing or preventing problems is half of the service equation; communicating with customers is the other half. Customer service is as important, if not more important than the immediate resolution of the problem.
An integral part of the customer experience equation is people. Your employees must have the necessary product or service knowledge, great customer service skills, and the means of communicating directly with customers.
Here is an example: For many years, I have been doing business with a local support company. About a year ago, the president created a policy that prevented employees from directly talking to clients.  Emails were allowed and talking to technicians— if you really pushed, but a conversation with any kind of manager was off limits. The lack of meaningful dialog led to much frustration and their reputation was ruined. Even if they resolved the problem and provided reasonable customer service, it didn't matter.
I'm reviewing proposals from competitors, which will cost more money – but they'll get my business. The difference between the two companies is not the technical service; it's the customer experience. Communication skills count.
Price will always be important in a customer's purchase decision, but "outstanding service" is the number one reason customers do business with a company.
The experience you provide your customers is your brand. You might think to yourself, "Hey, I've only lost two customers in the last three years. Overall, my customers are satisfied with my service." Typically, technical service customers aren't prone to leave—but does that mean you have a happy customer, a good reputation – or both? Does that mean your customer would refer you to other companies? Don't bank on it. Just because a customer stays, doesn't mean they're happy.
Customers who aren't happy:
Stay with you until a better alternative shows up
Become price sensitive
Openly complain about your service to professional associates
Look for ways to limit the services you provide
Note: Poor customer experiences result in an estimated $83 Billion loss by US enterprises each year because of defections and abandoned purchases.
Source: Parature Customer Service Blog
Even if you've had a client for 10 years and have a personal relationship with management, you are not safe. Personal relationships are important and managers have a professional responsibility but at the end of the day, they will judge your company on the business service you provide.
Customers who are exceptionally happy become loyal and will:
Never leave you for a competitor
Pay higher prices for your services
Refer your services to other companies
Look for additional reasons to do business with you
These are the customers you want. Customer satisfaction isn't difficult if you provide great customer service and make the customer experience something to brag about.
---
About the Author
Malcolm Carlaw currently serves as the Executive Vice President of Impact Learning Systems—A Division of Miller Heiman, a company dedicated to providing world-class customer service and sales training to front-line agents. He speaks regularly at trade shows and industry conferences. He holds an MBA in organizational development and finance. Malcolm is an avid photographer, enjoys international travel, and manages to keep his orchids blooming most of the year.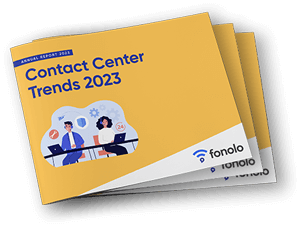 Trend Alert! Contact Center Industry Predictions for 2023
This report offers perspective on where the contact center industry stands today, plus our trend predictions for 2023.