Our October 3rd news release announced some exciting news – 1st United Services Credit Union (USCU) selected Fonolo to eliminate hold times for its customers.  What could be seen as a daunting task was made simple with the help of Fonolo.  Within days; 1st USCU was offering Fonolo's cloud-based solution to improve the customer experience and connect 1st USCU's callers to the right agent while eliminating hold time.  This is a simpler, faster and friendlier way of providing financial services, which has truly transformed their call center experience.
In a statement, Mark Edelman, VP for member contact at 1st USCU said,
"It was remarkable how easy it was to get the Fonolo solution up and running. We are thrilled to be offering this improved experience to our members."
How Fonolo is helping 1st USCU
The Fonolo web widget improves the customer experience by putting the power back into the customer's hands.  As a 1st USCU customer you will see this widget on the "contact us" page of their website.  Once you select the reason for your inquiry you are asked to complete three quick fields (name, member number, call back number) and Fonolo takes care of the rest.
The Benefits
The 2011 consumer's report survey indicated that in the last year, 67% of customers hung up the phone out of frustration because they could not talk to a real person.  1st USCU is now delivering an excellent customer experience to their members by offering Fonolo's intelligent call-back feature.  More and more companies should refrain from providing customer dis(service) by eliminating phone menus, hold times, and frustrated customers.
If you think your financial company would benefit from having Fonolo as a call center solution, please contact Chris McLean at 416.366.2500  x228 or email chris@fonolo.com.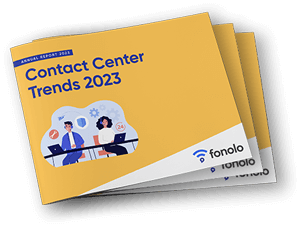 Trend Alert! Contact Center Industry Predictions for 2023
This report offers perspective on where the contact center industry stands today, plus our trend predictions for 2023.