With 2012 coming to a close it's time to step back and take a look at your call center.  A fresh outlook combined with a few simple solutions can make a tremendous impact on customer retention and employee efficiency.
Chances are, if you're reading this blog, you're in the industry and are seeking out effective ways to make a change.  Your mandate involves finding solutions to these problems – solutions you may not have or know of.
Block your calendar on December 6th at 2 pm ET as we discuss Ways to Boost Your Call Center. You can be an active participant and ask questions or simply watch and listen, it's up to you.
You'll also hear from Allstream and how they were able to kill two birds with one solution.  Kent will be prepared to discuss how his employees feel when they are more efficient and the perception of clients during field visits.
Kent Mcinall
Director Service Activation and Assurance at MTS Allstream
"With Fonolo, our Field Technicians get an immediate productivity boost, because they no longer have to wait on hold during client visits."
Allstream is a Canadian leader in IP communications with 2,500 employees, 600,000 customer connections and a nationwide fibre-optic network. Allstream deployed Fonolo's mobile solution to boost employee productivity in the field. They enabled field technicians to reach the support center with just one click, eliminating hold time during client visits.
There's so much at stake hinging on the success of your call center.  You simply can't afford to miss it!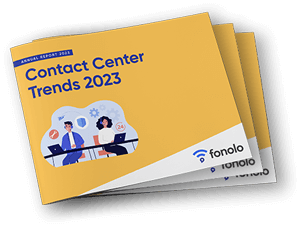 Trend Alert! Contact Center Industry Predictions for 2023
This report offers perspective on where the contact center industry stands today, plus our trend predictions for 2023.