Fonolo is happy to announce World Travel Holdings to our growing list of customers as we continue to grow our portfolio of world-class partnerships with the addition of Cruises.com.  Owned and operated by World Travel Holdings, one of the nation's top travel agencies, Cruises.com offers incredible savings on brand-name cruises.
With the addition of Fonolo to the Cruises.com website, users select the cruise they're interested in and can now easily request an agent call-back with just one click – eliminating phone menus and hold-time.  Fonolo's cloud-based call-back service provides a convenient and intuitive interface for callers and a secure, seamless process for call center agents.
Shai Berger, Fonolo CEO said,
World Travel Holdings recognizes that the vacation experience begins long before you arrive at your destination.  The integration of Fonolo with the Cruises.com website gives prospective travellers a first-class customer service experience right from the start of the booking process.
According to a 2012 study from American Express, for a complex purchase like booking a cruise, customers preferred talking to a live person on the phone two-to-one over simply using a website.  Offering an intelligent call-back feature makes it seamless for customers to reach an agent, removing the barriers from buying online.
Jeff Smith, SVP sales and customer care, World Travel Holdings stated,
Not only does Fonolo direct callers to the right agent based on their travel needs, but the resulting data shows an improvement on the caller experience which has exceeded our expectations and favorably impacted sales.  Fonolo makes it even easier for our customers to book their dream vacation and furthers our ability to deliver a remarkable experience.

Fonolo widget on Cruises.com
Because Fonolo's cloud-based solution required no changes to their call center, World Travel Holdings was able to deploy this new functionality in a matter of days. They also integrated their web analytics with Fonolo so they could track and optimize every aspect of the customer experience.
World Travel Holdings began offering Fonolo service to its Cruises.com customers in November 2012.
If you're attending IQPC's 8th Annual Call Center Summit this week, be sure to sit in on Debbie Fiorino's talk on Customer Loyalty and Employee Engagement.
Thursday, January 24th, 2013
8:15 KEYNOTE: Realizing the ROI of Linking Customer Loyalty and Employee Engagement
Debbie Fiorino
Senior Vice President Human Resources
World Travel Holdings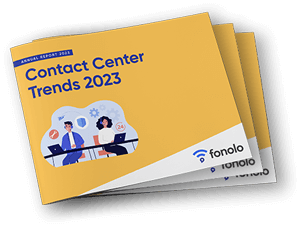 Trend Alert! Contact Center Industry Predictions for 2023
This report offers perspective on where the contact center industry stands today, plus our trend predictions for 2023.