Like Fonolo, Andrew Maher is on a mission to improve customer service. His blog, Service Please, covers a wide range of topics that help companies understand why customers are complaining and highlights excellent solutions to help improve customer service.
Congratulations to Andrew on his first successful video blog!
Below is a text snippet from Andrew's interview with Shai and a link to the video.
Improving the Customer Experience? An Interview with Fonolo's CEO Shai Berger
Companies are having a hard time in delivering good service.
Berger: There is this growing gap in what is seen as the norm on one side but has not been met from the other. Many companies are hobbled by legacy call center equipment. Customers today using their phones, their smart phones it must seem like something from another era when they finally come through to an agent and have to repeat their answers to multiple agents. There is a huge potential here.
What part of this experience is Fonolo trying to address?
Berger: There are 3 main problems; phone menus, waiting on hold & repeating information to agents. We are working to solve these main problems across the web no matter how they approach the companies.
How does Fonolo fit into this mix? Where does Fonolo play?
Berger: We build on top of those processes already in place. There is a huge investment already in place and we place ourselves on top. The key to make that work is the simple callback. Fonolo sits in the middle to manage that process. One way this is done is by placing a widget on the website. The customer sees the contact us page and the visual interface lets the customer chose how they want to interact with the company and ask for a callback when they are ready. Behind the scene is Fonolo making the inbound call to the call center. The call center sees the call like any other inbound call.  We navigate the IVR and wait in queue. The agent gets a regular inbound call, we place the callback then to the customer, bridge the two together and the customer has this great experience and nothing had to change on the call center side.
So there's little change or no change on the contact center side needed?
Berger: Right, people have set up Fonolo in a matter of days. The customer adds the widget to the website and Fonolo navigates the IVR as a gateway to the call center. The same is the case for mobile apps. Lots of …
Read the full interview here.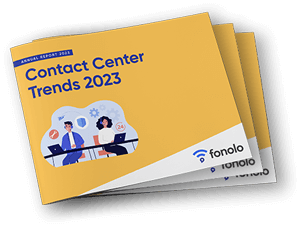 Trend Alert! Contact Center Industry Predictions for 2023
This report offers perspective on where the contact center industry stands today, plus our trend predictions for 2023.