Last week's webinar drew record crowds, and for good reason: it was focused on a very compelling case study. Fonolo was recently deployed by 1st United Services Credit Union across three channels (mobile, web and direct-dial) with terrific results. How terrific?  The improved calling experience delivered enough incremental revenue in the first 60 days to cover the annual Fonolo license!
So you can see now why this would be a crowd-pleaser: Multi-channel communication, improved customer experience, revenue lift, Web Call-Backs (formerly Visual IVR), virtual queuing, mobile customer service, iPhone and Android apps… basically every hot trend in the industry today.
During the webinar, I talked about an "API vs. Component" approach and that drew quite a few questions. Since we didn't have time to answer them all, I'll expand on that topic here.
The landscape
A number of companies offer products for adding call-backs to your website or mobile app: Genesys Mobile Engagement, Avaya Callback Assist, Avaya Customer Connection Mobile, NICE Mobile Reach, InIn Interaction Mobilizer, Virtual Hold Conversation Bridge and Cisco Courtesy Callback. Whew! The list is pretty long.
Two things really make Fonolo stand out from the crowd. The first is that it operates in a way that is independent of the call center. So this means it doesn't matter if your call center is powered by Vendor A or Vendor B, some mix of the two, cloud-based or even totally outsourced.
The second is that we offer ready-to-use components that can be added into your website with a few lines of HTML or dropped into your mobile app with minimal effort. Most of the other offerings on the market instead follow the "API model". (Actually, I think all of them do, but I'm not totally certain. If you know differently, please leave a comment below.)
An API is just a starting point
The API model means the vendor takes care of the "back-end" (interacting with the ACD, holding a place in the queue, making the outbound call, etc) and then says to you "Here's a function call to start a call-back, you can build anything you want around it."
Now, if you're a company with huge design and development resources for web and mobile, this is probably preferable, because your own team can build something that works beautifully. But for the vast majority of companies, this is too big a burden and is a big reason these projects don't get out of the gate.
I brought this up during the webinar and asked, Mark Edelman (VP of Member Services for the credit union), if they would have undertaken this project if they had to build the interface around an API. He said quite plainly: "No, it would've been much too complex to approach it that way."
The impact on ROI
Vendors following the API model may offer to build the user interface for you, but this, of course, will add cost and time to the project. Many companies today need to show conclusive ROI within months, not years, so this is a crucial point.
One of the highlights of our webinar was Mark talking about how quickly they deployed Fonolo on all three channels and their positive ROI achievement. They booked over $1.2M new loans through Fonolo-powered calls in 60 days!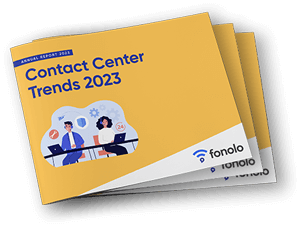 Trend Alert! Contact Center Industry Predictions for 2023
This report offers perspective on where the contact center industry stands today, plus our trend predictions for 2023.