To be successful in customer service, it helps to understand motivations. Consider the perspectives of:
The customer service representative (CSR), whose motivation is likely personal sales and customer loyalty goals;
The customer service supervisor, who seeks similar goals, but from a team of CSRs;
Management personnel, who want bottom-line, organizational results; and
The customer, who wants personal needs delivered with a high level of quality service.
What do all these people have in common? The ultimate customer service experience with the ultimate results.
How can your organization deliver? Here are five "game changers" in delivering the ultimate customer experience:
1. Empathy
In countries around the world, what matters most to customers is the emotional impact of their interactions with front-line employees, according to "Why Your Customers Stay or Stray," a research report from AchieveGlobal.
2. A smile
The research also shows that CSRs who smile warmly, even if it means acting friendly (but not insincerely) when they don't feel empathy are more effective than showing negative emotions. And smiles can have a contagious two-way effect.
3. Clear communication
Even if time is short, the most effective employees communicate and listen attentively, notes the report. They use the customer's name and ask thoughtful business and appropriate personal questions.
4. An apology
When needed, an apology can create a powerful connection with a customer. The apology builds a bridge and can mean the difference between losing a customer and retaining a loyal one. The top two positive employee behaviors, according to the research, are "apologize" (28%) and "be nice" (17%).
5. Respect
Interestingly, the research found that, in all countries surveyed, respondents said "being heard and respected" are more important than having their issue resolved. And with respect comes natural sincerity and gratefulness. A "thank-you" at the end of a customer encounter sets the stage for repeat business.
 
Although technology, leadership, skills and culture are all important, none of these matters without employees who make the emotional effort to own the customer experience. The common denominator: the interpersonal skills of people on the front lines of customer service. They can make or break the customer experience.
Guest Blogger: Beth Stetenfeld
Beth is an editor, writer, and small business communications consultant. Contact her at beth@stetenfeldassociates.com.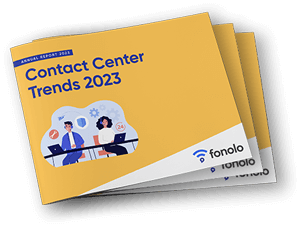 Trend Alert! Contact Center Industry Predictions for 2023
This report offers perspective on where the contact center industry stands today, plus our trend predictions for 2023.