As we gear up for the frighteningly fun Halloween season, the team at Fonolo got thinking, "How can we compare the world of ghosts, goblins and witches to the customer service and call center space?"
I'm sure we can all agree that the thought of calling a call center can often times be as frustrating as passing that house on the street with the porch light off. Then there's feeling like a ghost while you're waiting on hold, hearing the ghoulish sounds of, "your call is important to us". Those are some of the scary options, but what about all the good comparisons between Halloween and your service organization?
Developing a Customer Service Style
Is your service organization going to be that house on the block that all the trick-or-treaters couldn't wait to go to? You know what I'm referring to; it's the house with the best decorations, the biggest candy bars and the friendliest owners – always a must! Or are you going to be the house with the lights off? It all comes down to your service style.
You can take many approaches, but here are three critical service styles that Richard Branson suggests you employ (I think we can all agree that he has done an excellent job on this front …)
Empower agents to work together.
Two heads are most definitely better than one. Design your space so that agents can rely on each other. Create easy ways for them to communicate and empower them to feel like managers.
Have a customer service mission.
Your mission statement should revolve around the customer experience and then be instilled into each employee. Find ways of making that statement front and center so that the agents know what they are working towards every day. Those that embrace it should then be rewarded.
Encourage staff to bring their personalities to work.
If you're hiring "A" players, then you should encourage them to show their positive personalities. It makes customer feels like they're not dealing with robots.
And like Devil's Night (the eve of Halloween) here's a service scenario you should avoid:
This Halloween can definitely be a happy one. Your organization has what it takes to make customer service top notch and deliver the ultimate customer experience.
Happy Halloween!!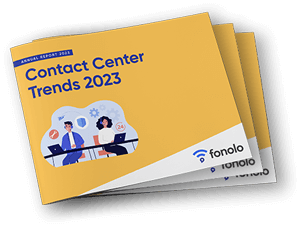 Trend Alert! Contact Center Industry Predictions for 2023
This report offers perspective on where the contact center industry stands today, plus our trend predictions for 2023.