Whether you're a frequent flyer or not, you know that phoning an airline can be incredibly frustrating.  The reasons can vary – cancelled flights, lost luggage, flight changes, among others – but the experience remains the same: long hold times.
It's natural to think that customer service is the route to building a successful business, but organizations like American Airlines don't seem to understand that concept. Disgruntled customers frequently complain about long wait times and an overall poor customer experience. According to onholdwith.com (a site that catalogs complaints from Twitter users stuck on hold), American Airlines was the top offender by 925%!
After reaching out to @AmericanAir we were advised that hold time complaints was due to a severe ice storm that hit the Dallas area. Here is the dialogue that took place:
Our thoughts go out to all of those that were affected by the storm. Our philosophy, though, is that with the right preparation, the customer experience doesn't have to suffer – especially during times of turmoil.
Although price is typically the dominant driver of purchase decisions when selecting an airline, people still expect a positive customer experience. What customers received from American was, unfortunately, not what they expected during this period.
Luckily, this isn't the case for all airlines. On a recent flight to Calgary, Canadian discount airline, WestJet, set up a "Santa box" that more than 250 guests spoke to, telling the on-screen Santa what they wanted for Christmas. They asked for things like a new scarf, an Android tablet, or even just a flight home. What the passengers didn't know was that on the other side of the screen were of 175 WestJet volunteers. When they landed in Calgary all the presents they asked for from Santa were waiting for them!
Merry Christmas to all and to all a good flight!
About onholdwith.com
Onholdwith.com catalogs and publishes tweets from people waiting on hold and alerts offending companies – ultimately giving consumers a voice.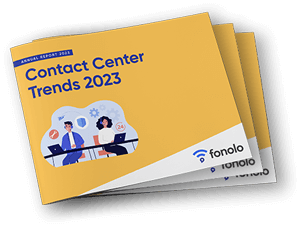 Trend Alert! Contact Center Industry Predictions for 2023
This report offers perspective on where the contact center industry stands today, plus our trend predictions for 2023.