We often talk about customer service as if it's what really matters. The truth is, it's not the most important barometer of how we're doing- rather, it's just what we can control. More relevant is customer experience (CX) – what customers actually think of their interaction with us.
CX isn't something you can affect directly; it's the net result of every touch point with a customer. Accordingly, building a strategy to improve CX can be an involved process. In other words, it's a marathon, not a sprint.
Here are a few tips to help along the way.
Understand your Customers
You can't improve what you don't measure, so it's critical to gather actionable data. Who are your customers? What do they think of you? What do they really expect? How and when do they want to interact with you?
This data should be readily available with the tools at your fingertips- surveys, social media, speech analytics, call logs, etc. In fact, the hard part is combing through the sheer volume of data to make sense of what matters most. That said, analytics should become an integral part of every interaction so that you're constantly fed with fresh data.
Understand your Organization
Be honest- no, really. In your evaluation of the strengths and weaknesses of your organization, it's critical to take an unbiased view. For many companies, this means getting an outsider's perspective from consultants who have the necessary expertise.
Easy is looking in the mirror and saying "we're great". Hard is facing the reality that staff are poorly motivated and management hasn't made customer experience a real priority. As they say, "no pain, no gain": it's the most important step.
Take an Iterative Approach to CX
Tackle one problem at a time. Measure. Repeat. Taking an iterative approach will allow you to feel the practical impact of every change you make across the organization.
There's no quick fix; if there was, every company would be offering a superior CX. The reality is that there are so many levers to pull and not enough time and money to pull them all.
Keep your Eye on the Ball
Leaders in the space always stress the basics: make customer experience a company-wide priority (it's not enough to simply tell front-line workers what to do), be proactive by reaching out to customers to ask for advice, make the experience consistent across all channels, etc.
All the good advice can be overwhelming; most organizations feel that they are running near capacity already and taking on new initiatives means that something else will suffer. While this may be true, nothing is more important than anticipating and exceeding customer expectations. Do this and everything else will fall into place.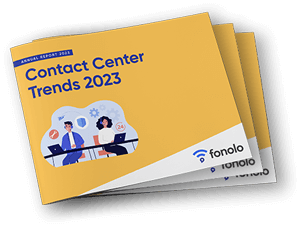 Trend Alert! Contact Center Industry Predictions for 2023
This report offers perspective on where the contact center industry stands today, plus our trend predictions for 2023.