These days, customer service has clearly become a competitive differentiator. Here's a collection of the top 50 customer service quotes your organization can use.
If we can keep our competitors focused on us while we stay focused on the customer, ultimately we'll turn out all right.
– Jeff Bezos
Thank your customer for complaining and mean it. Most will never bother to complain. They'll just walk away.
– Marilyn Suttle

The purpose of every business and organization is to get and keep customers.
– Shep Hyken
No customer walks into your business, gives you money and then says, "Dissatisfy me, please." Aim for 100% customer satisfaction.
– Bill Quiseng
A brand for a company is like a reputation for a person. You earn reputation by trying to do hard things well.
–Jeff Bezos
A brand not responding on Twitter is like hanging up the phone on customers. With millions watching.
– Dave Kerpen
A man without a smiling face must not open a shop.
– Chinese Proverb
Always keep in mind the old retail adage: Customers remember the service a lot longer than they remember the price.
– Lauren Freedman
Ask your customers to be part of the solution, and don't view them as part of the problem.
– Alan Weiss
Be helpful – even if there's no immediate profit in it.
– Susan Ward
Being on par in terms of price and quality only gets you into the game. Service wins the game.
– Tony Allesandra
Biggest question: Isn't it really 'customer helping' rather than customer service? And wouldn't you deliver better service if you thought of it that way?
– Jeffrey Gitomer
Businesses often forget about the culture, and ultimately, they suffer for it because you can't deliver good service from unhappy employees.
– Tony Hsieh
Consumers are statistics. Customers are people.
– Stanley Marcus
Customer satisfaction is worthless. Customer loyalty is priceless.
– Jeffrey Gitomer
Customer service shouldn't just be a department, it should be the entire company.
– Tony Hsieh
Customers are like teeth. Ignore them and they'll go away.
– Jerry "G" Flanagan
Customers who are merely satisfied remain your customers only as long as everything goes their way.
– Chip Bell
Do right. Do your best. Treat others as you want to be treated.
– Lou Holtz
Do what you do so well that they will want to see it again and bring their friends.
– Walt Disney
Don't find fault. Find a remedy.
– Henry Ford
Every company's greatest assets are its customers, because without customers there is no company.
– Michael LeBoeuf
Every great business is built on friendship.
– J.C. Penney
Everyone in an organization should be involved with customer service, not only are they feeling the customer but they are getting a feeling for what's not working.
– Penny Handscomb
Forget 'branding' and 'positioning.' Once you understand customer behavior, everything else falls into place.
– Thomas G. Stemberg
Formula for success: under promise and over deliver.
– Tom Peters
Get closer than ever to your customers. So close that you tell them what they need well before they realize it themselves.
– Steve Jobs
Go beyond merely communicating to 'connecting' with people.
– Jerry Bruckner
Firms need to ensure that their ability to provide effective customer service keeps pace with their growth. If you're marketing your firm to new customers, you better be able to provide them with service when they do business with you.
– Arthur Levitt
Good customer service costs less than bad customer service.
– Sally Gronow
You must earn the right to continued relationships with customers.
– Jeanne Bliss
You never get a second chance to make a first impression.
– Will Rogers
Your most unhappy customers are your greatest source of learning.
– Bill Gates
Your premium brand had better be delivering something special, or it's not going to get the business.
– Warren Buffett
Zappos uses call center technology to track average call time per agent. But the goal isn't to reduce this average… "It's more important that we make an emotional connection with the customer, rather than just quickly getting them off the phone.
– Tony Hsieh
The goal as a company is to have customer service that is not just the best but legendary.
– Sam Walton
If you work just for money, you'll never make it, but if you love what you're doing and you always put the customer first, success will be yours.
– Ray Croc
Be everywhere, do everything, and never fail to astonish the customer.
– Macy's Motto
If you're not serving the customer, your job is to be serving someone who is.
– Jan Carlzon
Customers don't expect you to be perfect. They do expect you to fix things when they go wrong.
– Donald Porter
The customer experience is the next competitive battleground.
– Jerry Gregoire
There are no traffic jams along the extra mile.
– Roger Staubach
A customer service apology is stronger with a personal touch.
– Shep Hyken
A thousand words will not leave so deep an impression as one deed.
– Henrik Ibsen
All customers are not created equal. Chances are, 80 percent of repeat business will come from 20 percent of your customers.
– Bob Stone
Always do more than is required of you.
– George S. Patton
Be dramatically willing to focus on the customer at all costs, even at the cost of obsoleting your own stuff.
– Scott D. Cook
Well done is better than well said.
– Benjamin Franklin
When the customer comes first, the customer will last.
– Robert Half
The more you engage with customers, the clearer things become and the easier it is to determine what you should be doing.
– John Russell
Bonus quote:
Use Fonolo's cloud-based call-back solutions. Your customers will thank you.
– Jason Bigue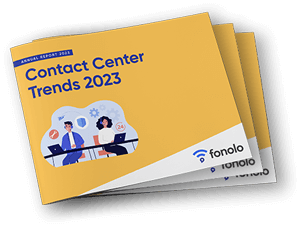 Trend Alert! Contact Center Industry Predictions for 2023
This report offers perspective on where the contact center industry stands today, plus our trend predictions for 2023.