One of the challenges of your business's growth and product popularity is keeping up with the support. When your staff is spending more time answering customer calls and emails than focusing on your strategic goals, it's time to set up a customer call center.
These suggestions will give you some direction and help you develop a call center that creates a high level of customer satisfaction, referrals and repeat business.
Creating Your Expert Team
Do you have existing staff or will you be hiring new employees to staff the center? Will your team be located remotely or in your local Canadian offices?
An article in The Globe and Mail notes that outsourcing customer service call center roles to offshore staff has generated lower customer satisfaction. They also note that more Canadian businesses have chosen to hire within the provinces generating jobs for those areas.
Whether your team is local or remote, as Smart Recruiters suggests, they all need to have a basic set of customer service skills including:
Excellent communication skills so calls are addressed and documented properly
Multi-tasking abilities that allow them to keep customers on the line while researching answers for them
Analytical skills making them proficient problem solvers
Detail oriented so important aspects of the call aren't missed
Reliability so staff scheduling doesn't become an issue
Coaching for Efficiency
Once your team is trained, continual coaching keeps them growing their skills, as Avaya explains. This often consists of a manager listening in on calls with feedback on how they could improve the customer experience. When a staff member does a particularly good job handling a customer call, that could be shared with the team as an example of great customer service.
In-service meetings give your team the chance to discuss different customer calls and how best to service them. Become a facilitator in those meetings by providing input, but allowing your staff to create their own solutions and best practices.
Managing a Variety of Communications
Besides phone calls, your call center may also handle customer emails, texts, social media posts and live chats. All of these require special training for agents to be proficient. Different team members may prefer specific roles, but all should be able to cover the needs during peak periods, vacations and holidays.
Measuring Efficiency
Canadian Business says that you'll want to match the way you measure efficiency against the goals you have for the call center. For example, if call volume handled is your measure of success, then you'll streamline and measure call answer speed and how long the customer is on the phone before they get an answer. If customer satisfaction is the key performance indicator, then a completed customer survey after the call can be your metric.
Technology Needs
Consider the cloud for applications such as ticketing systems, call routing and escalation systems. Cloud-based employee scheduling tools, such as ShiftBoard, let you manage schedules anywhere from your mobile device. Staff can check on their schedules without needing to call someone at the office.
Look for tools that streamline your business functions so that you spend less time doing admin work and have more time to focus on customer service. Products such as Intuit small business software, handles accounting, payroll, and tax needs and can also be accessed by mobile devices. You can view your call center's financial reports without being tied to your desktop computer.
Data Collection
One way that call centers are benefiting companies is through their information gathering capabilities. Contact information, demographics and customer preferences are all types of data that your staff can collect while on calls or responding to emails. This data can then be used in future marketing campaigns.


Guest Blogger: Eric Eckhard
Eric is a former sales agent for a national moving company. These days he blogs about customer service and the moving industry.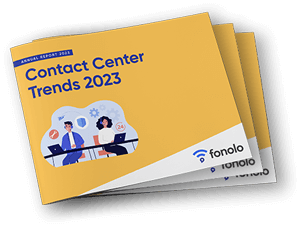 Trend Alert! Contact Center Industry Predictions for 2023
This report offers perspective on where the contact center industry stands today, plus our trend predictions for 2023.