You may have already recognized the increasing need for customer service to go mobile – and if you haven't, where have you been? Although mobile customer service is relatively new, it's still worth thinking about. How can you better accommodate customers who may be using your services on the go?
By adjusting your customer service approach to incorporate at least some kind of mobile element, you'll be appeasing a greater variety of customers (who will thank you for it), and will be less likely to be left behind when mobile retail really takes off.
If you're not convinced, these three reasons may just change your mind…
1) Mobile Purchasing Is Set To Rise
The stats speak for themselves with this one. Mobile purchasing accounted for £111 billion of retail revenue in 2013, which is 15% of the market. This is expected to rise to £430 billion by 2013 according to Juniper Research, which means your business needs to be prepared.
As shopping becomes more and more of a hobby, customers want to be able to shop  on the go and balance it with other tasks in their day to day lives. Consumers can reach for their tablet when watching TV and look up an item from a commercial they just saw. And then there's 'showrooming' – exploring an item in-store, before using one's smartphone to see if a cheaper deal exists elsewhere.
Make mobile shopping easier for your audience by designing a dedicated mobile site, complete with larger touch points, a simpler checkout system and a less cluttered interface. Strip away the features your mobile browsers are unlikely to need (such as company background) and leave more room for contact details and open hours. Eliminate the need for add-ons too like Flash, which is not supported by most mobile devices.
2) Apps Can Help Improve Your Customer Service
Apps are a godsend when it comes to effectively managing your customer service responsibilities. While 60% of people now own a smartphone, only 20% of businesses are using customer service-related apps. This is surprising considering the number of Apple and Android apps that provide an easy and reliable means by which to work your customer service from wherever you are.
Examples:
FAQ, created by Soluble, allows you to store and deliver a variety of automated messages in response to those common questions your team may receive every day. This can help to save time on smaller, easily solvable problems and allow your reps to focus on the more complex issues. Don't worry about this being an overly automated approach – emails can be reviewed and altered before sending to suit the nature of the circumstances at hand.
Freshdesk is another leading app, allowing reps to access all customer queries across all channels, from wherever they are. Queries are turned into virtual 'tickets' that can be prioritised according to their urgency and assigned to the most capable team member. It can also be used to measure customer satisfaction and set targets. Freshdesk is currently used by the customer service gurus behind leading brands such as Hugo Boss and the Stanford School of Medicine.
3) Mobile Customer Service Promotes Self Help
Why would you want to encourage self help? Self service cuts down call center wait times and overall communication traffic, taking the strain off your team and reducing the number of frustrated customers. Salesforce Desk also calculated that self help costs just $1 per customer, as opposed to $10 for an email and $33 for a service call. Encouraging self help therefore significantly reduces business costs.
Website FAQs and sharing resources such as webinars, videos, articles and infographics via social media are the easiest ways to encourage self help. But delivering a customer service mobile app for your company can work magic as well.
A mobile app can also be used for product registration; store location; completing surveys in exchange for e-vouchers, and of course obtaining support 'tickets', which your reps can address accordingly. It can also integrate other smartphone features, such as GPS or the camera (for use as a QR scanner). It can deliver important updates and notifications if there's anything you think your customers ought to know in advance; from product discontinuations to website downtime. And many of these features can be implemented through the use of SMS, to deliver customer help, obtain feedback and track online orders.
Wrap Up
Integrating mobile functions into your customer service approach does not mean replacing an otherwise dedicated, loyal customer service team. Your reps need to be on-hand to help with customer queries that may arise from other channels, as well as assisting with the use of some of the features outlined above. However, by providing a useful mobile service you will make life easier for customers and outshine your competitors.
Guest Blogger: Sophia Wright
Sophia Wright is a writer and researcher for Customer Service Guru. She has worked in the consumer marketing profession as a Customer Relations Manager and consultant for the last seven years. Sophia is passionate about pioneering marketing techniques that put customers at the heart of success and growth. She values platforms for discussion regarding the satisfaction of the customer and enjoys the recognition of companies who are leading the way with regards to developing long-term B2C relationships.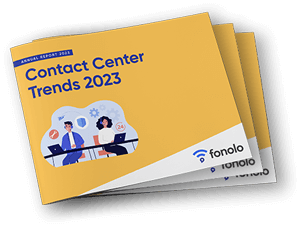 Trend Alert! Contact Center Industry Predictions for 2023
This report offers perspective on where the contact center industry stands today, plus our trend predictions for 2023.