Businesses should be proactively attempting to address customer service issues. Following research conducted by Verint and the Customer Contact Associated, only 24% of customers believe brands take notice of their views, and research has also found that consumers hesitate to express feelings of discontent with service providers.
At a time when businesses are looking to evolve their strategies of providing customer service, notably by being accessible on social media channels such as Twitter and Facebook, it may come as a shock that only 16% of survey participants believe engaging with service providers on social media helps resolve customer service issues.
With the combination of dissatisfied customers and their reluctance to voice their complaints, what different methods can businesses and brands use to provide customer service?
Hunt for Feedback
If customers are reluctant to provide feedback, then ask them for it. You could either mail them (physically or electronically) a survey form or give your loyal customers a call now and then to ensure they're satisfied with the service you're providing.
Even if customers aren't 100% happy with their service, making an effort to address this reveals the dedication and desire to improve – in short, it shows that you care and are aware that your service isn't perfect for everybody.
Following this up by publishing your findings and acting upon major concerns will really put the icing on the cake. If your budget allows it, another nice touch is to offer customers who provide feedback entry into a prize draw as an incentive, to be honest with their thoughts on your business.
ISO Certification
Should the unfortunate case arise that customer dissatisfaction runs so deep that there are inherent flaws in your business strategy, it may be worth becoming ISO 9001 certified. The ISO 9001 certificate helps businesses of any size implement strategies and processes that reduce costs and streamline processes to improve customer satisfaction. Making efforts to improve the service or products you provide can often show a significant improvement.
Stay Ahead of the Competition
Verint's research showed that in certain industries, customer loyalty is rare. Just 27% of customers have been with their insurance providers for more than 3 years, and only 46% have committed to utility providers. With customers willing to switch to the competition, making your service stand out from the crowd is necessary. There are no articles that will tell you how to think outside the box, but working out a good advertising strategy or loyalty scheme can help you retain customers and gain new ones too!
Customer service is always difficult – no matter how successful your business has been in the past, the whole applecart could be upset by one inflammatory episode of questionable service.
Constantly assessing and reassessing how you provide customer service is one of the great challenges facing businesses today.
Guest Blogger: Rachel Hemsley
Rachel Hemsley is an internet marketing specialist working at the Fountain Partnership. She writes quality content for a variety of online platforms.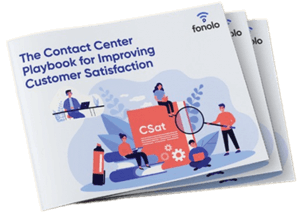 The Contact Center Playbook for Improving Customer Satisfaction
In this handy playbook, contact center leaders will learn the ins and outs of improving customer satisfaction.