It's clear that it's a multi-channel world for contact centers with 77% of consumers using more than one channel when seeking service. When your company interacts with customers over many different channels, presenting a consistent "voice" becomes a major challenge. That challenge has become acute with the rise of the millennial generation (those born between 1978 and 1996). Now that 1 in 4 people in the U.S. is in this group, their purchasing power and influence is undeniable.
Contact centers need to realize the importance of maintaining this "one customer voice" if they want to win the hearts of these critical consumers.
Millennial Preferences
A recent survey by SDL asked more than 1800 millennials about their purchasing behavior during the first quarter of 2014. The most important findings, from the perspective of customer service, is that these customers naturally hop from one channel to the next in dealing with a company (mimicking the communication style with their peers) and that they expect a consistent "voice" across those channels. In response to the question, "Should it feel the same when dealing with a company whether you're online, in a store, or on the phone?" 60% said yes.
Paige O'Neill, Chief Marketing Officer at SDL, said,
Consumers have drastically changed the way they engage and interact with companies, altering expectations and making it imperative for brands to quickly adapt. To keep pace, marketers should focus on the experiences customers want throughout the customer journey, and adjust company strategies to coincide. If you change the way you engage customers on one channel, it may only be one step in an overall strategy. It is vital for organizations to ensure channels are so connected that they become irrelevant, placing the focus on delivering true omni-channel engagement.
Mobile Customer Service
The SDL study found that millennials touch their smartphone 43 times per day. 67% of them use 2 devices daily, 38% use 3 devices daily and 30% use 4 devices daily. This is truly a mobile generation! A robust mobile strategy is essential for your customer service roadmap.
Gartner senior analyst Michael Maoz summarizes the importance of the mobile channel well with this quote:
The mobile channel is emerging as the consumer's primary choice for all possible service activity with service providers. The use of the mobile channel will accelerate once customers realize that their needs will always be met through this touch point. Complementing mobile self-service with assisted-service is a natural and required evolution of the mobile channel.
Agent Personality
One can't overstate the importance of agent performance in delivering a good customer experience, regardless of the channel. You can't present a consistent "voice" if your agents aren't all on the same page.
A great deal of effort goes into hiring, training and maintaining an effective call center workforce, composed of people with different personality types. And while personality may not be the dominant factor, it is one of many components used to select and properly motivate agents, who really are your front-line brand representatives. Here's more on this topic: Does Personality Matter for Call Center Agents?
Workforce Optimization
One tool that is helping companies present a unified voice is workforce optimization software (WFO). The original intent of WFO was to make the call center more efficient (lower AHT, lower ASA, etc.), but the emphasis is shifting to customer experience.
In May 2014, Aberdeen surveyed 83 businesses regarding their contact center WFO activities. Fifty-nine percent stated that their top objective was to "improve the quality of customer interactions," compared to 32 percent in 2012. You can read the full results here.
Omer Minkara, Aberdeen Research Director, states,
Companies today are 44 percent less likely than two years ago to cite improving agent productivity and performance as a top objective. They are, however, 84 percent more likely than in 2012 to indicate improving the quality of client interactions as a top objective driving their WFO programs.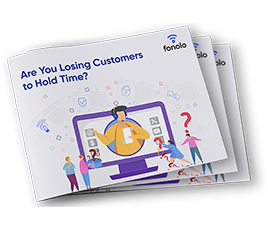 Are You Losing Customers to Hold Time?
Download our free whitepaper and learn about the best way to eliminate hold time and improve the customer experience.