Increasingly, companies are recognizing the importance of customer service to their business. Once seen as just a "cost center", the contact center is, in reality, the front line of customer service. Every interaction with a customer is an opportunity for your agents to exceed their expectations, turning happy customers into loyal customers, building your brand.
To do this, your customer service organization needs to be fully in tune, consistently putting on its best performance. Here are some killer ways to develop a "rock star" customer service team for your business.
1. Find Out What Motivates Them!
You can't make people do what they don't want to. Accordingly, the first step is to find out what they want, what they're passionate about. Every employee has different talents and personalities; finding out what their workflow is like and what their specific goals are is the key to properly motivating them.
2. Set the Right Targets
Quantifying "excellent customer service" is tough, but you can certainly outline specific targets that count. You could measure the number of calls answered, the number of tweets responded to, or something entirely different.
Rather than picking a static goal to hit, try to identify the range of performance that matters, from the minimum, to the target you desire and beyond (set the bar high on what would truly be exceptional). And don't just leave it at that- regularly revisit these goals based on real-world performance and the needs of your business.
3. Empower Your Agents
Nothing is more demoralizing to both agents and customers than to hear, "I'm not allowed to do that." You want employees to go the extra mile, so let them!
Give your employees the tools, training and leadership they need to be the best. Then, give them the power to act on their initiatives, from going off-script to resolving customer issues as they see fit.
4. Ask Customers for Feedback
Collecting customer feedback is an integral part of the process. It doesn't matter how you do this – there are a wide variety of tools at your disposal. What matters is gaining their insight into your performance. And, of course, this directly feeds back into your support process. After all, you can't fix what you don't know is broken.
5. Reward Your Rock Stars!
When your team delivers, let everyone know … achieving your goals is call for celebration. Don't be shy to publicly single out key members of your team who have hit – and exceeded – their targets. You should all share in the sense of pride.
If you manage to hit the goals that you've deemed to be "truly exceptional", set aside a reward that's really fitting. Choose something material that won't be forgotten (a team trip) and that will serve as an additional incentive the next time round.
Remember: when your customer service team wins, your entire business wins!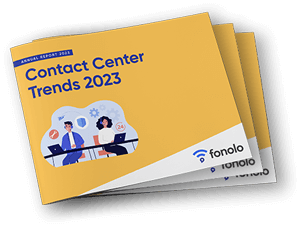 Trend Alert! Contact Center Industry Predictions for 2023
This report offers perspective on where the contact center industry stands today, plus our trend predictions for 2023.