According to Aberdeen, contact center agents spent 25% of their time idle – paid time where they're not interacting with customers or engaging in training activities.
Idle time is, of course, a necessary part of most jobs – making employees productive 100% of the time is a sure-fire way to burn them out early and increase your turnover rates. However, a high rate of idle time should be looked at as an indicator that something's wrong in your organization: It's the mark of lower productivity and higher staffing costs.
What can you do about it?
Better Manage Staffing Resources
For contact center managers, it's imperative to understand trends in call volume and the impact on staffing requirements. Have too many agents, and idle time will increase dramatically. Have too few, and service levels will be negatively affected.
Luckily, there are tools to help with this. For example, there are a wide variety of workforce management solutions on the market that can more accurately predict staffing needs. And, technologies like call-backs can allow your call center to better handle spikes in call volume by deferring calls until volumes are more manageable, allowing you to make more efficient use of agents.
Understand Idle Time
Given that idle time will occur, knowing how and when it occurs is the key to better managing it.
A survey by Knowlagent found that the majority of idle time occurs in less than 3 minute increments. If this is true in your contact center, any "off-phone" tasks you assign to idle agents must be relatively short. Be it training, back-office work, etc., finding a way to break large assignments down into smaller pieces will allow agents to tackle them during periods of idle time.
Be Creative
The sky is the limit when it comes to making productive use of idle time. You can deliver short-bursts of targeted training, re-assign agents to alternate channels like chat, email, etc., or have them use the time to catch up on other tasks.
By making tasks fit the pattern of idle time and by making them engaging for agents, you're sure to see an increase in productivity.
Listen to Your Agents
No matter what strategy you employee to better manage agent idle time, don't do it in a vacuum.  Ask your employees for their feedback and constructive criticism. After all, they're in the best position to make suggestions, and allowing them to participate in the process increases the odds of success.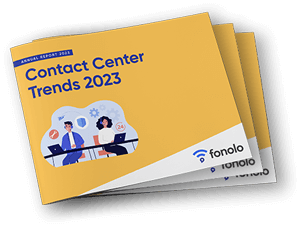 Trend Alert! Contact Center Industry Predictions for 2023
This report offers perspective on where the contact center industry stands today, plus our trend predictions for 2023.