In his essay, "How Tracy Austin Broke My Heart," David Foster Wallace discusses how un-insightful most sports autobiographies are. He explains how instead of finding "secrets to success," he'd find only banal (one of his favorite words), obvious advice, and he had this idea that maybe sports superstars can't explain it because it's essentially inexplicable, a blurred firestorm of simplicity and complexity with no real easy answer. Although it sounds pessimistic, he writes the piece with a searching – slightly lost, slightly wanting – tone that is affecting without being depressing (so check it out).
I'm not necessarily saying I agree with him — heck, I think I'm actually closer to disagreeing with him especially after reading "Mastery" by Robert Greene and "Daily Rituals: How Artists Work" by Mason Currey but, regardless, DFW gives some nutritious thought-food for those hoping to get better at something, at anything.
So, to start: what is a personalized interaction? Here, honestly, I'm already tripped up because it depends whether "personalize" means more personable as in friendly, warm and welcoming or if "personalize" means being more uniquely you with the customer, to show some genuine personality. Put another way: do I offer some easy tips to help foster connection or do I focus on the "learn to like yourself and people will too" or my favorite: "learn to like yourself and more people will too but don't forget some people are just plain grouchy" (realistic, although not too pithy). I believe my confusion in tackling this subject illuminates that there are clearly different ways to look at this, different ways to make a more meaningful, personalized interaction with a customer.
I'll start with the surface ideas, my four favorite tips for creating better connections:
1. Eye candy: My simple yet powerful exercise: notice three people's eye colors today. Think about how their eye color seems to work (or not work) with their personality as well as their complexion. I wouldn't go so far as to say everyone's eye color is snowflakey-unique, but it's close. Regardless, they're one of the most frequent things you come across that are inherently beautiful and it just makes sense to appreciate it.
2. Record your smiles: A five minute exercise: find something to record your voice. Use your phone or vocaroo.com. Record yourself reading one of the above paragraphs while smiling and while not and you'll notice the difference instantly. Not only does smiling naturally make you feel happier (I don't know why – maybe it's a primitive "bearing weapons" gesture and it makes you feel safe) and also structurally changes the way the noises come from your mouth, making them sound slightly cheerier.
3. Be a poseur: Practice relaxed body posture – it changes your chemical composition, namely eliminating some nasty cortisol (the main stress hormone), and simply helps you be a more calm, confident person. For two minutes, try leaning back with your hands behind your head or standing with your hands on your hips, elbows out.
4. The art of the compliment: it's super simple, and borderline wrong, but if I didn't fully have a soul, I'd compliment every single person's voice. It is, in my opinion, the easiest and most memorable compliment you can give someone. If that's not your cup of tea, simply start processing what you like complimenting people on and do it as much as possible. This one's easy and also gets you dates.
The second aspect personalization, as mentioned before, is trickier. Being an authentic person means being brave enough to be yourself despite the fact that there will be jerks just waiting to spit on your soul. It also means being strategic and intelligent enough to know when actually NOT to be you, when to suppress certain things you want to say/do with/to the customer.
Unfortunately, being treated like dirt and having to hide avalanches of emotion can poison you, so why risk it, right? Why not just shut off, be a robot with a smile, be impersonally friendly, offering compliments that ring with the same essence as "that's a nice lamp." My answer, my reason or secret that inspires you to risk being authentically and memorably personable, as you may have seen coming, doesn't exist. You have to soul search for yourself because not I, not David Foster Wallace, not any sports superstar can tell you what works for you. That's something only your existential mirror can reveal, so good luck and happy soul-gazing (and don't forget to check out DFW's essay [it's pretty short]).
---
Guest Blogger: Lucas Runge
Lucas is a creative content crafter at the Marketing Zen Group and Kova Corporation. As a UW Madison Graduate with high aspirations, he excels at composing content from the soul, striking a balance between emotionally insightful and goofily charming. In his free time, the former Badger enjoys gaming, hockey, and massages. Follow him @LucasRunge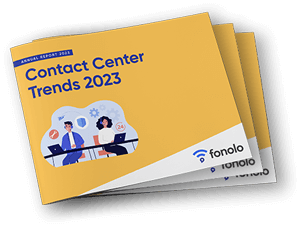 Trend Alert! Contact Center Industry Predictions for 2023
This report offers perspective on where the contact center industry stands today, plus our trend predictions for 2023.