It's essential that your organization understands the 10 key trends currently shaping the state of customer service. Some may be familiar trends that you've already embraced, while others may be new. Either way, a keen eye must be kept on this important industry that continues to evolve.
Let's take a look at 10 growing customer service trends for 2015.
1. Mobile Customer Service is a Priority
The modern customer is more connected and informed than ever before. Much of this is owed to the mobile-first mindset of today's consumer. So if your organization doesn't embrace this technology, be sure to expect a negative impact on the customer experience. In fact, Gartner predicts that through 2018, the lack of support in mobile applications will lower customer satisfaction rates by 5%.
By the end of 2015, 42% of the global population will own a smartphone. Think about the opportunity this presents: Smartphones provide consumers with an avenue to text, email, video chat, tweet, and the list goes on. Mobile defines how consumers communicate and engage with brands. This means when it comes to interacting with your organization, they want the power they're so used to receiving. Ultimately, customers want complete control.
2. Self-Service Takes the Lead
83% of online customers require some degree of customer support to complete a purchase. In fact, 67% of customers use web self-service knowledge to find answers to their questions.
Web self-service gives customers (and employees) the opportunity to access information instantaneously, without having to contact a live agent. This means that information can be attained immediately without the hassle of waiting on hold or for an email response.
Gartner predicts that by 2020, the customer will manage 85% of the relationship with an enterprise without even interacting with a human. If you haven't deployed web self-service yet, now's the time.
3. Human Support is Still Required
Though we live in a seemingly anonymous culture (where "self-service" is so prevalent), customers increasingly want a personalized experience when it matters most. For example, a study by Wells Fargo found that 60% of banking transactions are made by customers who still prefer to do business with a teller (prompting Wells Fargo to tie their various platforms – ATM, online and in-person – together, to create a seamless, personalized experience between channels).
According to Gartner, by 2017, one third of all customer service interactions will still require the support of a human intermediary. So while self-service tools are crucial, don't lose sight of the necessary investment in your staff (see section 6).
4. Customer Experience Trumps All
It's no coincidence that industry leaders such as Zappos, Apple, and Amazon are also leaders in customer service. Organizations that deliver an enhanced customer experience are currently thriving.
Most companies use the customer experience as a way of maintaining the status quo, but smart companies use it as a form of differentiation from the competition. In fact, by 2020, customer experience will overtake price and product as the key brand differentiator.
According to Gartner, by 2017, more than half of R&D investments will be directed towards customer experience innovations. Keep a keen eye on the quality of experience your organization is delivering. Also, don't forget about the "multi-channel customer"; delivering consistency across channels is key.
5. Virtual Agents are on the Rise
Expect to see the rapid adoption of virtual agents. 70% of contact centers plan to expand the use of virtual agents in 2015 and, by 2019, the Intelligent Virtual Assistance (IVA) market is expected to be valued at $2.1 billion.
Why the sudden jump, you ask? Companies are focusing on using the same technologies and methods that consumers use each and every day to communicate with one another, thus providing customers with a great (and familiar) experience (see section 4).  This is why digital self-service is so important to achieving customer engagement.
Some companies caught on to this early in the game. In 2012, speech recognition pioneer Nuance unveiled Nina, a "sister" to Siri that lives in third-party apps. Nina works much like Siri, allowing users to provide voice commands that the technology can follow. In 2014, restaurant chain Domino's Pizza employed a similar approach when they unveiled "Dom," a voice ordering app.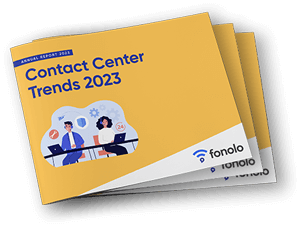 Trend Alert! Contact Center Industry Predictions for 2023
This report offers perspective on where the contact center industry stands today, plus our trend predictions for 2023.