Fonolo is proud to be a part of the 16th Annual Call Center Week Conference & Expo, June 15-19, 2015.
Set under the bright lights of Las Vegas, Call Center Week (CCW) is a five-day conference + expo featuring workshops, site tours, panel discussions, technology demos, case studies and social gatherings. What could be better?
CCW is the only place in the world where more than 2,000 customer-center executives gather to learn, network, conduct business and have fun.
You can also attend the Call Center Week Excellence Awards Gala on Tuesday, June 16th. These awards recognize and promote the most innovative contact center solutions. In fact, Fonolo has been selected as a CCW Excellence Awards finalist for "Best Technology Solution Provider".
Conference attendees can learn more about Fonolo's cloud-based call-back solutions (while having a lot of fun!) by visiting booth #1005. To dig even deeper, be sure to catch Shai Berger, CEO at Fonolo and Gibbs Jones, SVP Customer Experience at Suddenlink Communications, on Wednesday, June 17th, at 4:45PM (Track E) discussing "How a Call Center Eliminated Over 400,000 Minutes in Hold-Time."
More information about this event can be found at http://www.callcenterweek.com/.
For live updates and insights from the show, follow @fonolo on Twitter.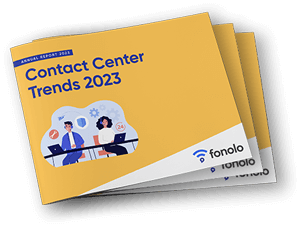 Trend Alert! Contact Center Industry Predictions for 2023
This report offers perspective on where the contact center industry stands today, plus our trend predictions for 2023.