These days, customer experience has become a competitive differentiator. In order to deliver an exceptional experience, your staff has to feel motivated and encouraged. They need to know that their efforts are making a difference.
Get them inspired by reading these 10 customer experience quotes.
1. "The more you engage with customers the clearer things become and the easier it is to determine what you should be doing." – John Russell
2. "There are no traffic jams along the extra mile." – Roger Staubach
3. "Your most unhappy customers are your greatest source of learning."
– Bill Gates
4. "If you work just for money, you'll NEVER make it, but if you love what you're doing and you always put the customer first, success will be yours." – Ray Kroc
5. "If you're not serving the customer, your job is to be serving someone who is." – Jan Carlzon
6. "The best way to find yourself is to lose yourself in the service of others."
– Mahatma Gandi
7. "Your customer doesn't care how much you know until they know how much you care." – Damon Richards
8. "When the customer comes first, the customer will last." – Robert Half
9. "There is only one boss. The customer."
– Sam Walton
10. "Under promise and over deliver." – Toby Bloomberg
Care to learn more about the customer experience? Join today's webinar!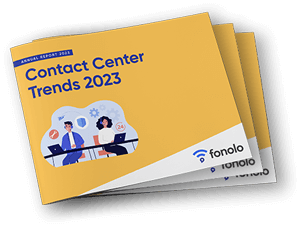 Trend Alert! Contact Center Industry Predictions for 2023
This report offers perspective on where the contact center industry stands today, plus our trend predictions for 2023.