Last week, Fonolo hosted yet another insightful Google Hangout, discussing the top 3 call center trends for 2016. This was our first ever hangout with just the Fonolo team. This fabulous panel shared their comments on where the contact center industry is heading this year. To save you some time, we've extracted video snippets showcasing highlights from the discussion.
Let's take a quick look at the Fonolo panelist: Mav Mehta, Account Executive, Daniela Puzzo, Director of Marketing, Nicolina Savelli, Communications Manager, and Shai Berger, CEO and Co-Founder.
The Surge of Mobile Customer Care
Here are some stats to think about when considering mobile customer care.
87% of people say their smartphone never leaves their side
80% of people say the first thing they do when they wake up is check their phone – I would definitely fall in that group
78% say they spend more than two hours every day using their phone
And 68% say that in the next 5 years they think everything will be done on mobile devices
So what does this mean for customer support? Will this actually be the year of growth for mobile customer care? Let's hear what the panel has to say.
Self Service as a Consumer Preference
More and more, customers simply want to solve inquires on their own – especially for simple questions like "what's the balance on my account". In fact, according to Salesforce, 72% of people think self-service support is a fast and easy way to handle issues.
The problem is that users are complaining about poor online experiences (57% according to Harvard Business Review) and therefore they're forced to just dial into the call center. Meaning, simply providing self-service doesn't mean a customer will find it useful.
So the question is, how can companies improve self-service so that it's tailored to the customer's needs? Listen to what the panel has to say.
The Impact of Social Media Support
Here's the face of social media today. 56% of companies did not respond to messages posted on their Facebook page and 71% of Twitter complaints went completely ignored. Customers are sharing their negative experiences online and companies are NOT using that as an opportunity to save the customer and protect their brand image
With all the tools available to manage social media in the call center, why are so many companies falling behind? Let's hear the panel discuss this topic.
Question about Chat-Based Customer Service
An audience members ask a question about Chat. They want to know where we see this trend going in 2016. Let's hear the panel address this question.
To learn more about call center trends read our latest whitepaper!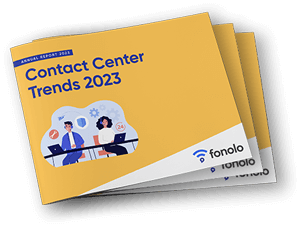 Trend Alert! Contact Center Industry Predictions for 2023
This report offers perspective on where the contact center industry stands today, plus our trend predictions for 2023.