Have you thought about implementing a call-back feature in your workplace? Are you weighing out the benefits? Call-back solutions could be instrumental in creating a positive working environment for your staff. It has the capacity to motivate staff, decrease stress levels, and empower employees to make their days more rewarding and more productive.
Phone queues are a highly stressful pain point for customers. So, when customers are happier, they're treating your staff better. A call-back feature means you don't leave your staff bearing the brunt of a customer's dissatisfaction during long queue times. Happier staff means lower attrition and burnout rates, along with improved engagement.
1. Many call centers don't provide adequate customer service training to their agents, and while technology shouldn't replace good training, a call-back feature can reduce the number of times operatives struggle with angry customers. Since this is extremely demotivating for staff it should be your priority to prevent this.
2. A call-back feature prevents customers from having to endure the frustrating 'on-hold' process, thus creating the feeling that their time is of higher value to the business. This puts your employees on a positive footing when opening a conversation with a customer and reduces the number of angry customers they have to deal with on a daily basis.
3. A call-back system can reduce hectic peak periods so the working day is more manageable for call center staff. This levelling out creates a better working environment and reduces the level of employee burnout.
4. A call-back feature frees up essential time that allows staff to plan and prioritize tasks. Staff can make better use of their time by utilizing a matrix or app. Time management systems like the Covey matrix allow staff to categorise their work from 'urgent and important' to 'neither urgent nor important'. This empowers employees to take control of their working day.
5. A call-back feature turns idle time into productive time and boosts morale! You might think that a complete lack of work reduces stress levels yet the reality is that it often actually increases them. A call-back feature means staff always has work and aren't bored during idle periods. Keeping a steady working pace makes work more fulfilling overall.
6. A call-back feature tends to lead to a higher customer satisfaction rate, which, as any call center operative knows, leads to a higher staff satisfaction rate. Customers that feel valued and haven't been kept waiting in a lengthy phone queue are more likely to feel relaxed. Which in turn, means they are more likely to respect your employees. It's a positive cycle.
7. A call-back feature allows staff to brief themselves on customer data before the call-back is made. This reduces the amount of time it takes to resolve the issue by looking up customer details. Employees also feel better equipped to handle phone calls as they feel in control of the situation and have all the necessary information at hand.
8. Having a call-back feature essentially provides greater ability to manage time and productivity. In turn, this gives operatives increased opportunity to engage in proactive activities such as making more outbound calls – in a nutshell, a call-back feature assists you in maximising sales as well!
Guest Blogger: Hannah Spruce
Hannah Spruce is a Content Author at High Speed Training, a UK-based online training provider that offers a popular customer service eLearning course, amongst others. She writes about a variety of topics for their blog, the Hub. Hannah holds a Master's degree in Contemporary Literatures and has a passion for poetry as well as coaching athletics in her spare time.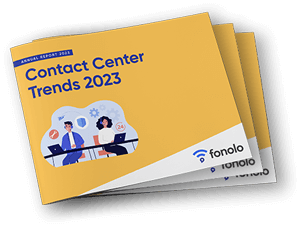 Trend Alert! Contact Center Industry Predictions for 2023
This report offers perspective on where the contact center industry stands today, plus our trend predictions for 2023.