"Ten years ago there was no web chat, smart phone apps, social media, and very little email. Today, digital interactions account for over 35% of all interactions and, at the current rate, will overtake voice in two year's time." – 2015 Global Contact Centre Benchmarking Report
Seeing as digital channels are still in their relative infancy, we can deduce that the customer experience will evolve in ways that have yet to be realized. It takes time, effort, and extensive customer listening to truly smooth out the kinks in any customer journey. Which begs the question: Will you be a party to that change? Today, 93% of corporate leaderships place customer experience improvement on their list of strategic priorities. Saying this I'm reminded of the most recent episode of 'Silicon Valley' where Pied Piper's UX design falls completely flat (500,000 downloads returned a measly 19,000 daily active users). And although the technology itself is brilliant, the everyday consumer wouldn't know that because the user experience wasn't clear, leading them to abandon the product completely.
Customer experience should create a flawless journey for customers, where every action they take has a viable reaction. But how can you know what changes your organization needs to make this happen? Here are few ways to stay in-tune to your business customer experience outlook:
Use Metrics to Measure Your Customer's Journeys
Poor experiences are a direct reflection of a poor customer journey. In a recent Fonolo webinar "5 Ways to Master 'One Contact Resolution' co-presenter, SQM Group, reported that when a company resolves a customer issue using One Contact Resolution (meaning one attempt to contact a company using only one channel), customer satisfaction levels will reach 89%. But if a customer has to use even one other channel to resolve an issue, their satisfaction will lower significantly: 49% to be exact. Researchers have also found that satisfaction on customer journeys is 30% more predictive of overall customer satisfaction than measuring happiness for each individual interaction. Ironically, 50% of C-suite executives said their organization uses no consistent measure of their customers' experience. That's crazy. Benchmarking customer experiences are a must for the success of any business. Here's some more reading by SQM Group to help you become a benchmarking expert: http://sqmgroup.com/omni-channel-research-benchmarking/
Spend Time Understanding New Technologies That Improve CX
The latter point blends nicely into this next topic.
When you've anticipated problems in the customer journey, you can then move towards resolving those experiences using new agile technologies. And you won't be alone: 50% of product investment projects will be redirected to customer experience innovations by 2017. And although resource-related costs account for 76% of the full operating budget in 2015 only 10% was reserved for technology, the lowest level in 3 years. But evidence shows there's a significant benefit of investing in technology for the customer experience. For example, 89% of current users agree cloud has reduced operating costs, and 50% of outsourcers agree Business Intelligence Systems will do the same. At Fonolo, our case studies have found that call-backs themselves have helped reduce operating costs and improve the customer experience.
It's the job of management to use metrics and to research the right solutions that will provide overall cost savings and benefit the customer experience.
Facilitate Two-Way Communication with Agents
Metrics, although very necessary, might not reveal some of the most obvious misses in the customer experience. Your agents in the front-line can readily provide you with insights that can help. In turn, 92% of contact center leaders see high value in sharing metrics in real-time with front-line agents. The top 5 metrics of greatest value when shared in real-time with agents are number of calls in queue, service level, customer satisfaction, schedule adherence, and first contact resolution – in that order. However, 54% report that no information is passed to agents when customers drop out of self/assisted service. There is a great opportunity being missed here to improve the customer experience. Is it possible that this lack of reporting – resulting in diminished communication – is caused by insufficient technology as mentioned above? It seems plausible. According to Salesforce, only 17% of respondents of their 2015 State of Marketing Report said their company had fully integrated their customer data across all areas of their organization.
So, what can we take away from this? Once again, I'll turn to a food analogy. In today's business economy, technology is like the meat, cheese and condiments between two buns: benchmarking metrics and successful communication. It powers both and provides managers with the insights and tools they need to facilitate an all-around great customer experience. Chew on that.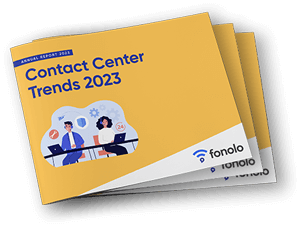 Trend Alert! Contact Center Industry Predictions for 2023
This report offers perspective on where the contact center industry stands today, plus our trend predictions for 2023.