What's driving the enormous interest in chat bots right now? A year after Facebook's launch of its bot platform (which TechCunch called "the new app store") it now has 33,000 bots. Competing platforms have high numbers too:  19,000 for Kik and 10,000 for Line.
Most impressive – to me, at least – is the number of companies that have invested in bots as a new channel for customer service. This early adoption is uncharacteristic. I certainly applaud the willingness to experiment with an unproven new channel. But I'm puzzled by the eagerness, especially compared to the slow uptake we saw with social media, chat and other channels by the same companies. Have they learned from those experiences and decided to be more aggressive this time? Or is something else going on?
Mobile or Bust
The most recent Black Friday / Cyber Monday set another record for mobile sales. For that same weekend in 2015, 37% of US online purchases were made from mobile. [Source: Total Retail Survey, 2016, PWC.]
So from the perspective of "being where your customers are" it's a no-brainer to a have strong mobile presence for both pre-sale and post-sale customer interactions. So the only question is: how?
App Fatigue
For the last decade, the main strategy for driving engagement on mobile has been through apps. But, for traditional vendors, this has had mixed results. Simply put, it's getting hard to get folks to download a new app, and even harder to get them to use it for any length of time. When you combine that with the nature of most retail interactions, where engagement is sporadic, the rate of repeat use is very low.
KLM invested in a mobile app, but recently came to realize the futility of driving attention in that direction. Their social media manager Karlijn Vogel-Meijer said:
Why would we push people to our app? We want to be where they are (in social apps).
Meanwhile, KLM has seen enormous growth in communication over Messenger, where they've recently deployed bot-based service. Naturally, this is where we'll be investing time and effort.
Newly released data is sobering: 5 out of 10 apps are used fewer than 10 times and 2 out of 10 are used only once. (That report analyzed 290 billion visits and 85 billion app launches.) Another way to put it: "At the end of 30 days, only 3% of all apps retain their new users."
Meanwhile, the costs of earning downloads continues to go up. The chart below, from Activate, compares that cost over the last 3 years, with the growing number of apps over the same time period.
Back to the Bots
Chat platforms are an alternate way to engage with mobile consumers. Going through them eliminates the "app barrier". That's been the case for several years already. But in the pre-bot era, that channel required all interactions to have a human agent on the other side. For self-serve interactions, customers had to go to a mobile app or mobile web site. With the introduction of chat bots, the chat channel covers both bases: self-serve and human-assisted.
Boiling it down: Companies aren't being pulled toward chat bots, rather they are getting pushed in that direction by the failure of apps (and mobile web) to deliver engagement by mobile consumers.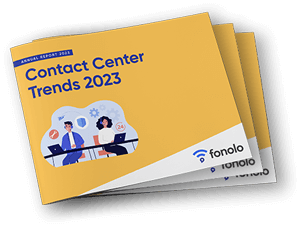 Trend Alert! Contact Center Industry Predictions for 2023
This report offers perspective on where the contact center industry stands today, plus our trend predictions for 2023.