Last week, Fonolo hosted a very insightful and engaging Google Hangout discussing the secrets behind a successful customer service culture. This fabulous panel of experts discussed how call centers can create a culture of collaboration. To save you some time, we've extracted video snippets showcasing highlights from the discussion.
First, let's take a quick look at the panel of speakers: Nancy Porte from Verint, Adam Toporek from CTS Service Solutions, Jeff Doran from CCEOC Inc., Shai Berger from Fonolo, and Kate Nasser,  The People Skills Coach™.
What are Tips and Strategies to Execute a Strong Culture?
A Gallup report shows that 63% of employees are not engaged, and 87% lack motivation and are unhappy.  Having a strong cultural narrative impacts agent engagement.
Listen to the panel as they discuss the tips and strategies that can help managers execute a strong company culture.
How to Hire and Train Agents to be Customer-Centric?
According to Econsultancy, customer-centric companies are 60% more profitable. But as we've recently seen with brands like United Airlines, companies often fail to carry-out an effective customer-oriented culture, ultimately taking a negative effect on the customer experience. To lay the foundation, organizations need to focus on their front-line staff.
Listen to the panel as they discuss how contact centers can hire and train agents to be customer-centric.
How Can Technology Help to Achieve a Successful Culture?
Having the right technology is no longer just a nice-to-have, but an integral part of creating an innovative customer experience and a more effective service delivery.
So, how can technology help to achieve a successful company culture? Listen to the panel as they discuss.
Bonus Question: How Do You Maintain a Customer-Centric Culture in a sales-oriented Company?
One of our audience members asked a very important question. How can a manager maintain a positive culture in a revenue-driven environment, where customer service agents often feel the pressure? Listen to the panel as they address this question.
.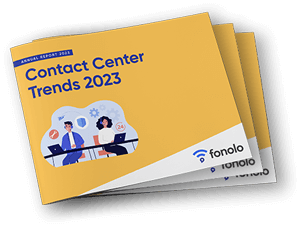 Trend Alert! Contact Center Industry Predictions for 2023
This report offers perspective on where the contact center industry stands today, plus our trend predictions for 2023.