Messaging platforms are fast becoming the most desired method of communication among consumers and businesses thanks to rising comfort levels with virtual assistants and chatbots. In the last year alone, the amount of time spent on mobile messaging apps (Facebook Messenger, WhatsApp) grew by a whopping 394%, surpassing social networks (Facebook page, Twitter). However, as the chat-for-commerce space matures, the unwritten partnership between businesses and messaging platforms raises some serious questions.
In our Google Hangout on Thursday, July 20th at 2PM ET/11AM PT, we ask chat experts Tobias Goebel (Aspect), Max Ball (RingCentral), Dan Miller (OpusResearch), Thomas Howe (Ten Digit Communications), and our very own Shai Berger, about the impact messaging platforms will have on the future of communications in the call center. We'll also discuss the newcomer, Apple, and if they will dominate the space.
Here's a sneak peak at the slides!
How to Pick the Right Messaging Platform for Customer Service
Tweet your comments and questions to @Fonolo with hashtag #CustServ or comment on our live conversation streaming on YouTube Live.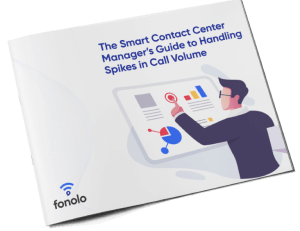 How to Manage Call Spikes in the Contact Center
Download this free guide to learn how to protect your contact center from call spikes.