Join Fonolo, the Greater Toronto Area Contact Centre Association (GTACC), and three amazing keynote speakers for a day of interactive workshops, engaging panel discussions, and lots of networking! On Thursday, November 2nd, 2017 at Pearson Convention Centre in Brampton, Ontario, GTACC will bring together call center professionals from across the country.
The event will include three keynote sessions from world-renowned motivator and communicator, Mike Lipkin, three-time Olympic gold medalist, Marnie McBean, and Contact Center Practice Leader for J.D. Power, Mark Miller.
Year over year, the Canadian call center community continues to show tremendous growth. GTACC shines a light on the achievements being made in this space, while recognizing the challenges faced by the industry. The GTACC event is a place for leaders to find encouragement and support that breeds contact center success.
Shai Berger, CEO, Fonolo
We are excited to have Fonolo sponsor this year's event. Fonolo's call-back solutions have contributed significantly to the changes we've seen in the call center industry over the years, and this positive transformation will be an important theme at GTACC this year.
Sangeeta Bhatnagar, Chair of the Greater Toronto Area Contact Centre Association
Conference attendees will have an opportunity to meet with Fonolo in the exhibit hall and learn how the company's cloud-based call-back solutions can help to lower abandon rates, smooth out volume spikes, and improve the customer experience.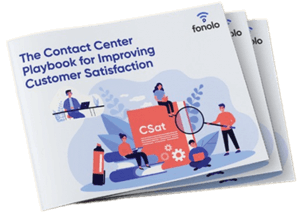 The Contact Center Playbook for Improving Customer Satisfaction
In this handy playbook, contact center leaders will learn the ins and outs of improving customer satisfaction.