It's that time of year again, the holidays are creeping in, and before you know it frantic shoppers will be soaking up those Black Friday and Cyber Monday deals; soon enough everyone will be in shop till you drop mode. Whether you're purchasing for your first cousin twice removed, or your Rolex wearing manager, the holiday season usually requires a great deal of customer service support.
With so many people in the same boat, at the same time, it's important that businesses have the necessary life preservers to make it out of the holiday season alive. Even retailers that staff up during the holiday season need a little help keeping pace, especially as the demand for ecommerce grows.
The influence of online shopping has a tremendous effect on customer expectations, and the customer journey. According to PwC, special holiday shopping days are moving online.
Nearly a third (30%) of consumers plan to do the majority of their Black Friday shopping online, and another 30% will combine online and in-store shopping, while just 19% will shop only in-store.
We interviewed 4 consumers individually, and asked them how they feel about holiday shopping, their favorite retailers to shop with, and some of their worst holiday shopping experiences.
We were surprised to find that although these individuals are diverse in age, marital status, and gender, they all had very similar ideals about the shopping experience (especially during the holidays).
Watch the full Q&A below.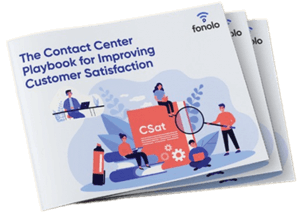 The Contact Center Playbook for Improving Customer Satisfaction
In this handy playbook, contact center leaders will learn the ins and outs of improving customer satisfaction.